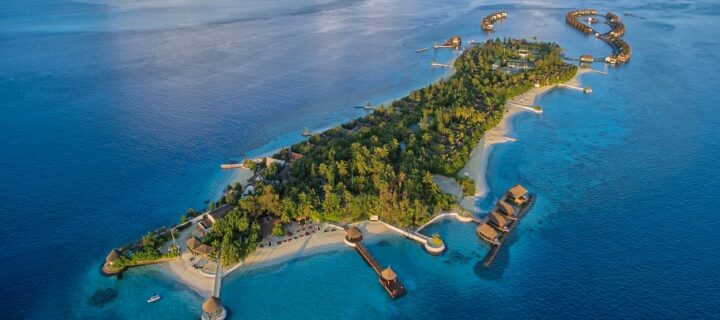 Jumeirah Vittaveli Green Globe recertified for third consecutive year
Jumeirah Vittaveli has once again been certified with the Green Globe certificate, recognised for its sustainable management and operations. The resort has been Globe certified since 2015, and this is the third consecutive year for the property to be certified by Green Globe.
Announcing the resort's 2017 re-certification, Amit Majumder, General Manager of Jumeirah Vittaveli said the team is dedicated to activities implemented since opening in 2011 and have donated their time and energy to many CSR outreach programmes such as regular island and reef cleaning sessions which are hosted together with guests.
"As a globally recognised organisation, the certification by Green Globe validates our efforts when it comes to environmental initiatives. We aim to build a better future not only for our guests who consider this island their home away from home but also for our colleagues for whom Jumeirah Vittaveli is their actual home," said Majumder.
He added that the resort has installed new water dispensers and distributed free reusable water bottles to colleagues so the resort can move closer to being a plastic bottle free island in the near future.
"The addition of a resident Marine Biologist to our team has added educational and fun activities to our guest programme with the Junior Coral programme at the Kuda Koli Kids Club, and the Vittaveli Coral Restoration project," Majumder added.
Jumeirah Vittaveli, with its collection of luxurious hotel suites and over-sea villas, is located a short boat ride South-West of the capital Male. Jumeirah Vittaveli's Green Team has been active for a number of years, bringing sustainable innovations to their island home. In 2013 a water bottling plant was installed, providing mineralized drinking water to guests and colleagues and saving 70,000 plastic water bottles per year.
Jumeirah Vittaveli is well known for its superb marine environment and is dedicated to conserving this precious natural resource. The resort's resident Marine Biologist surveys the local reefs and works on planting coral frames to support natural growth and counter-act the El Nino effect that leads to bleaching and coral dieback.
Weekly reef biology presentations are also held for the education and enjoyment of resort guests. Topics include understanding the fragile coral reef environment in the Maldives, adverse effects of El Nino and the Coral Restoration programme. Children attending the Kids Club are also introduced to the basics of marine science, with a dedicated Junior Coral Rangers programme where fun activities educate on environmental protection.
Community Programmes are a key part of Jumeirah Vittaveli's sustainability management plan. In collaboration with the United Nations Development Program (UNDP) the resort is working on several initiatives including the possibility to build a holding station on the resort to receive injured turtles and then arrange onwards transfer to a full rescue centre with a veterinarian on site.
Colleagues from Jumeirah Vittaveli also connect with island communities in their area with initiatives planned by the BOLI Committee (Building Our Lives Innovatively). Resort colleagues regularly visit surrounding islands for community outreach programmes and donation of essential equipment to schools, hospitals in Malé and children's homes. Recently a permanent collaboration was established with the Children's Autism Centre in Hulhumalé.