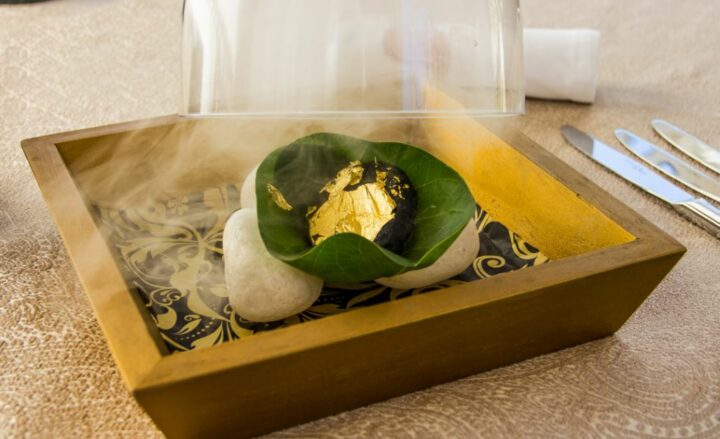 World's most expensive Indian menu launched at Swarna, Jumeirah Vittaveli
Jumeirah Vittaveli is celebrating Swarna's second anniversary with the 'Gold at Swarna' 15-course menu – the most expensive Indian menu in the world priced at US$2,000. This award-winning Indian signature experience combines the essence of opulence with the name of the restaurant, which translates to 'gold' in Sanskrit. Diners can discover an evening of royal treatment and edible gold will be an essential ingredient of each dish.
According to Jumeirah Vittaveli, the experience begins at the guest's villa where they will be collected by a Darban (gold buggy royal escort). Guests then arrive at a luxurious cabana where they have the chance to wear traditional Indian attire. Chef de Cuisine Bharat Kapoor then explains how he chose the combination of flavours for each dish which includes Blood Orange Soup with gold-coated Himalayan Pink Salt and Rose Gold coated Lamb Patty served over Bread from the inverted grill touched with gold.
Passionate about Indian cuisine, Chef Bharat calls himself a spicewala or spice traveller. He takes pride in selecting ingredients on trips to India and only uses spices available in India. "Authenticity is key," says Chef Bharat Kapoor. "You can't get truly Indian flavours if you use international ingredients."
Since Swarna opened two years ago it has won 'Best Indian Cuisine in Asia,' by World Luxury Restaurant Awards and the resort's newly opened 5-bedroom Royal Residence was recently recognised as the 'Indian Ocean's Leading Luxury Hotel Villa' at the World Travel Awards.
"Swarna continues to amaze our guests in terms of the ambience and the progressive approach to food and beverage experiences. The new menu 'Gold at Swarna' is a celebration of its continued success and takes the restaurant to another level," says General Manager Amit Majumder.
Swarna takes guests on a culinary journey through India in a Maharaja Style garden. Menus alternate between the 10-course journey menu, picking up flavours from every corner of the country and taking your palate on a voyage through the land of spices, and the signature 15-course Swarna Thali, an innovative new take on the Indian classic, in the form of an indulgent menu incorporating a host of rich flavours.
Jumeirah Vittaveli offers romantic escapes as well as a host of land and water-based activities, including a PADI Dive base, water sports centre, four restaurants and two bars. With its focus on cultural connection and organic experiences in a luxurious setting, Jumeirah Vittaveli offers guests a true Maldivian island experience.