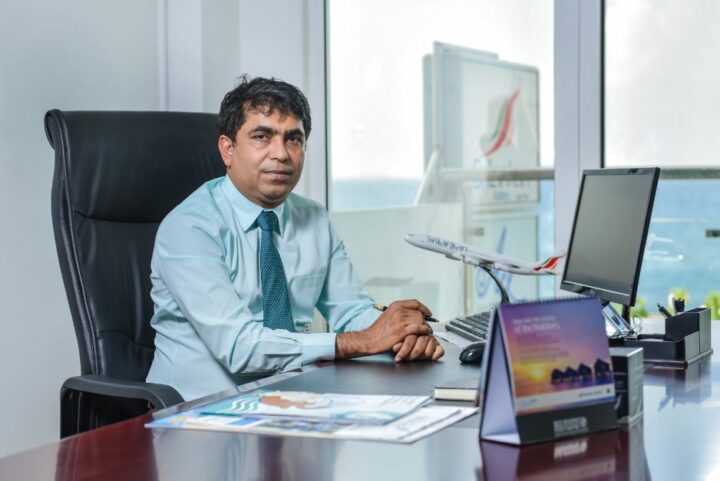 Exclusive: Mohamed Firaq, Managing Director of Inner Maldives
30 years ago, a very young and ambitious Mohamed Firaq joined the tourism industry as an airport representative. Driven by a strong sense of determination, Firaq founded and is now the Managing Director of some of the leading tour brands in the country; Inner Maldives, Ace Aviation, Ace Travels and Spence Maldives. He is also the Honorary Consul of Seychelles to the Maldives since December 2014. Firaq joined the ranks as an airport representative at Rover Tours in the mid-80s.
"After a number of years working, I moved on to Sun Travels," Firaq told Hotelier Maldives. "Even back then I had the mindset of setting up something on my own, and a split in the company was my queue to step aside."
Firaq was then offered to join the ranks of Crossworld Maldives as an executive, but decided to partner with them instead and form Travel 2000. After over two years of success, Travel 2000 too, was faced with a shutdown.
"Inner Maldives came to light 18 years ago. A couple of industry pioneers saw my potential and proposed a new business. Inner Maldives was formed with their support and backing," Firaq explained the inception of Inner Maldives; an award-winning tour operator, and one of the most reliable and trusted brands in the industry. Firaq is forever grateful for the support, which he sees as the foundation of his success. "I am proud of the respect accorded by industry pioneers."
"We only had three partners at the beginning. I had to go to the airport and receive clients, while also handling all other tasks – collecting invoices and payments, and communicating with tour operators abroad. But I received tremendous support from our benefactors, and they are continuing to back us."
What started operations in his own bedroom now employs over 180 staff, and have offices in Malé, Velana International Airport and Addu City.
"They are not just employees, but more like family," Firaq said, explaining the close working relationship of the management and staff.
"Like any given family, employees here have the right to speak directly with the management. If they have personal issues to attend to, we are more than willing to accommodate it and allow leniency to facilitate them. And we strive hard to keep them motivated, especially through incentives. A happy staff is what drives a company forward."
"Over the years, many a number of our staff have left us to seek more prospective careers. But their loyalty to this firm still stands unwearied. Their dedication to continue to assist this company even after their departure is something I cherish. I am proud to have trained and backed some of the most dedicated staff the industry has seen."It was Firaq's resolve for perseverance, which made Inner Maldives accomplish a number of new innovative feats, including the origin of Ace Travels, Ace Aviation and Spence Maldives.
"Even though we have four brands under our umbrella, we're still operating in the same sector of business. It gives us more room to expand,"
"It was immense hard work that earned us the General Sales Agent of SriLankan Airlines – a member of the Oneworld Alliance. In addition to Ace Travels and Ace Aviation, we also have Spence Maldives; dedicated to cargo handling, and we also manage SriLankan Cargo."Over the years, Inner Maldives has played a vital role in shaping and developing the tour industry. It was the first private company to charter inbound flights; from Paris, France, bringing in over 300 tourists. It is also the GSA of flydubai and a number of other airlines, and also handles a large number of private movements.
"It is a proud feat to be able handle the movement of around 50 private jets in two week. It had only been possible due to our dedicated staff, some of whom have been with us for the past 12 to 14 years."
In 2007, Inner Maldives introduced outbound travel packages, in partnership with SriLankan Holidays – the leisure wing of SriLankan Airlines, with attractive packages to destinations all over the globe. It also operates vacation cruise packages, including the famed Costa Cruises.
But the company's biggest achievement is its contribution to the nation. "I strongly believe that, behind every successful company, is an even greater responsibility to contribute to national development," said Firaq, very keen on the company's involvement in the community.
"Our biggest undertaking so far have been operating direct flights between Colombo and Gan, Addu City. We are committed to this endeavor, as I strongly believe that we have a responsibility to assist fledgling resorts and other tourist establishments in the south of the country."
"We have introduced special tour packages, in partnership with leading travel operators, to further increase tourist arrivals to properties in the south. We plan to increase the frequency of SriLankan Airline's flights between Colombo and Gan to 5 flights a week, starting September. Plans are in place to attract more visitors from India, Malaysia and Singapore as well."
2017 is a colossal year for Inner Maldives, following its milestone partnership deal with one of the leading tour operators in the world, with a target of bringing in over 35,000 visitors every year. "At the Arabian Travel Market we will also be joining hands with flydubai holidays to provide customized holiday packages to over 85 destinations, while promoting inbound packages to Maldivian resorts," Firaq added.
The company, contributing approximately 25% of tourist arrivals through local tour operators, now has its sights set on expanding operations to Seychelles. It is also adopting new advancements in technology, and would launch its all new online booking system later this year. Firaq is optimistic of the future of the country's tourism industry.
"Hopefully we will increase our contribution to the industry and the country, and bring in more numbers of tourists in the coming years."