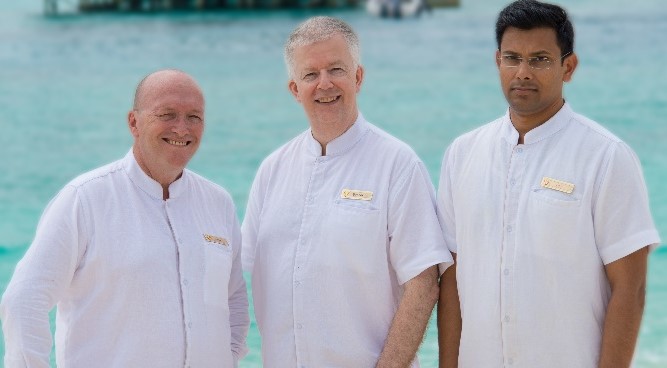 Jumeirah Vittaveli appoints new Executive Committee Members
Jumeirah Vittaveli has made a number of senior leadership appointments; Benedict Hopkins as the Director of Finance, Lijo John as the Director of Revenue Management and Mike Audrain as Director of Human Resources.
Amit Majumder, the General Manager of Jumeirah Vittaveli, said: "A strong team is made of dedicated and experienced professionals and therefore I am very pleased to have Lijo, Mike and Benny as part of the Executive Committee. The collective knowledge and experience they bring to the team in their leadership roles is vital in taking the resort to greater heights through enriched guest and colleague experiences."
A native of the UK, Benedict's career has spanned many industries and continents. He previously worked with Jumeirah as Director of Finance at Jumeirah Bilgah Beach Hotel, Azerbaijan and has worked across various industries including banking, auditing, risk management, bio-tech, mining and educational services across Russia, UK, Kazakhstan and Saudi Arabia. He entered the hospitality world as Finance Director at Soneva Fushi, Maldives.
An Indian national, Lijo began his career in Revenue Management in the Middle East where he worked with the Hilton Group of Hotels. During his time with Hilton, Lijo set up a Cluster Revenue Management Centre and developed his expertise in pricing strategy and rate structure. Lijo has worked in the Maldives before and held the position of Revenue Manager at One & Only Reethi Rah. He is familiar to the destination and unique market conditions that apply to his new role.
Hailing from the UK where he started his career, Mike's career has given him a great insight into people management and training. He first worked with Eldridge and then with Whitbread Hotels & Restaurants. In the Middle East, Mike worked with Grand Millennium Abu Dhabi and Dusit Thani Dubai, before he moved on to his most recent role, as Director of Human Resources of the Morgan's Hotel Group, at the Mondrian in Doha, Qatar. He has previously worked with Jumeirah, as HR and Development Manager, which was crucial in developing and implementing the expansion plan for the growth of the Jumeirah Living luxury serviced apartments.
Jumeirah Vittaveli is a 20-minute boat ride away from Ibrahim Nasir International Airport. Whether for an intimate escape or an indulgent family retreat, Jumeirah Vittaveli offers unmatched diversity, subtle luxury and personalised exploration.
Jumeirah Group, the global luxury hotel company and a member of Dubai Holding, operates a world-class portfolio of hotels and resorts including the flagship Burj Al Arab Jumeirah. Jumeirah Hotels & Resorts manages properties in Dubai and Abu Dhabi, UAE, and Kuwait in the Middle East; Baku, Bodrum, Frankfurt, Istanbul, London and Mallorca (Spain) in Europe; the Maldives and Shanghai in Asia.
Jumeirah Group also runs the luxury serviced residences brand Jumeirah LivingTM with properties in London and Dubai; the new contemporary lifestyle hotel brand VenuTM; the wellness brand TaliseTM; Jumeirah Restaurant Group DubaiTM; Wild Wadi WaterparkTM; The Emirates Academy of Hospitality ManagementTM; and Jumeirah SiriusTM, its global loyalty programme.
Future openings include luxury and lifestyle hotels in China, India, Indonesia, Jordan, Malaysia, Mauritius, Oman, Russia and the UAE.