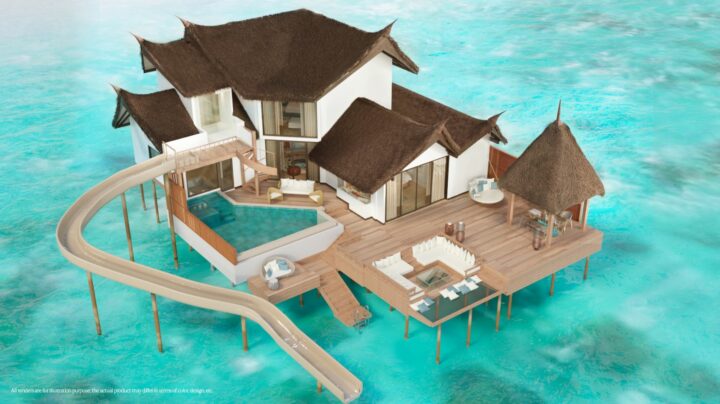 Jumeirah Vittaveli unveils new Ocean Villas with longest water slides in Maldives
Jumeirah Vittaveli has unveiled its newly revamped Ocean Villas, which have been refurbished with water slides, offering more than an awe-inspiring view. All of the resort's freestanding Private Ocean Retreats and seven Infinity Pool Ocean Villas now offer the 23-metre slide which runs from the top deck into the gentle waters of the crystal clear lagoon.
Just a 20-minute luxury catamaran ride from Malé, Jumeirah Vittaveli's Private Ocean Retreats are popular with honeymooners and offer a wonderful sense of seclusion – it's what dreams are made from. At 400sqm, guests can relax during the day on the newly enlarged open-air deck and admire the underwater world from a glass-bottomed sunken lounge, according to a statement.
The Private Ocean Retreats offer a private infinity pool with show-stopping 180° views and wooden steps that lead straight into the warm waters of the lagoon. The sociable space offers a dining area for six, complete with glass-bottom floor – perfect for catching a glimpse of the vibrantly coloured reef fish as they swim by. The spacious villas also have the luxury of a master bedroom upstairs and a second bedroom downstairs, complete with separate bathrooms and a walk-in closet on the ground floor.
For the Infinity Pool Ocean Villas, exteriors include extended seating areas and glass bottom floors, with overwater hammocks completing blissful outdoor relaxation. The interiors have a fresh look too and have been enhanced by a new colour palette, inspired by the warm Maldivian sunsets and sparkling turquoise lagoon. The additional windows add an airy touch and bring the beautiful outdoors in, and while the resort offers ten food and beverage outlets, the in-villa private bar means guests may simply choose to stay in the luxurious surroundings of their island hideaway.
"At Jumeirah Vittaveli, we are always thinking of new and exciting ways to wow our guests. Be it the first ice skating rink in the Maldives, the five-bedroom Royal Residence, the underground Whiskey Salon, UnderChic, or our stunning beachside bar B4R," said Amit Majumder, General Manager, Jumeirah Vittaveli. "The list goes on. We look forward to welcoming our guests to stay at the resort and especially our new Private Ocean Retreats and Infinity Pool Ocean Villas which now feature the longest water slides in the Maldives."Jumeirah Vittaveli offers romantic escapes as well as land- and water-based activities, including the destination's first ice rink, a PADI Dive base, water sports centre, Talise Spa, six restaurants and bars, a wine library, and two lounges, the underground whiskey salon will open in December 2018. For more information about Jumeirah Vittaveli, visit www.jumeirah.com/en/hotels-resorts/maldives/jumeirah-vittaveli.