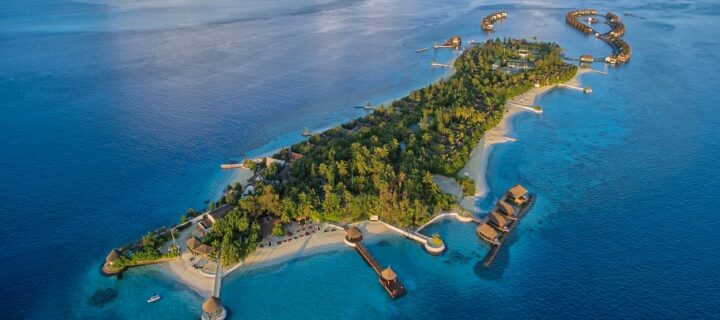 Oktoberfest with a tropical spin at Jumeirah Vittaveli
Jumeirah Vittaveli is celebrating Oktoberfest, Munich's most iconic festival, with a tropical spin. Set to the backdrop of the turquoise waters of the Indian Ocean guests can experience the festival like never before, says Jumeirah Vittaveli in a statement.
Jumeirah Vittaveli is collaborating with an authentic Bavarian costume designer – Daniel Fendler has been designing stylish 'Tracht' for more than 15 years and dressed such stars as Helene Fischer, Florian Silbereisen, Sylvie Meis, and Olympic ice skater Kathi Witt.
According to the resort, guests visiting beachside restaurant MU Beach Bar & Grill will be welcomed by waitresses and waiters decked out in authentic Bavarian garb – from Dirndl, over-apron, to Lederhosen for the gentlemen. With the mood properly set for a fun day in the sun, the resort's 'Bierzelt-Bedienungen' (waiters/waitresses) will serve guests a selection of authentic Bavarian dishes such as Nuernberger, Frankfurter or Kasseler Rippchen, accompanied by a traditional refreshing German drink.
The Jumeirah Vittaveli Oktoberfest will last until 15 October. Besides the celebrations at MU Beach Bar & Grill the island's water sports centre is offering flyboarding for the adventurous and for those looking to experience the wonder of the underwater world, there are diving and snorkelling excursions to see turtles and magnificent shipwrecks.
On the island itself, guests can turn to the spa for an afternoon of rest and relaxation or lounge along the beach facing the crystal clears waters of the lagoon. For the evenings, guests have the choice of a culinary journey through India in the resort's signature restaurant Swarna, or an over-water fine dining experience featuring French cuisine at Fenesse, according to the statement.
So far the resort has celebrated a vibrant Chinese New Year, an Alice in Wonderland themed Easter and a Carnivals around the World Festive season is still to come. Located in South Malé Atoll, Jumeirah Vittaveli offers romantic escapes as well as a host of land and water-based activities, including a PADI Dive base, water sports centre, four restaurants and two bars.
With its focus on cultural connection and organic experiences in a luxurious setting, Jumeirah Vittaveli offers guests a true Maldivian island experience. The newly opened Royal Residence was recently recognised as 'Indian Ocean's Leading Luxury Hotel Villa' at the World Travel Awards. To learn more about the resort and offers, please visit jumeirah.com/en/hotels-resorts/maldives/jumeirah-vittaveli.