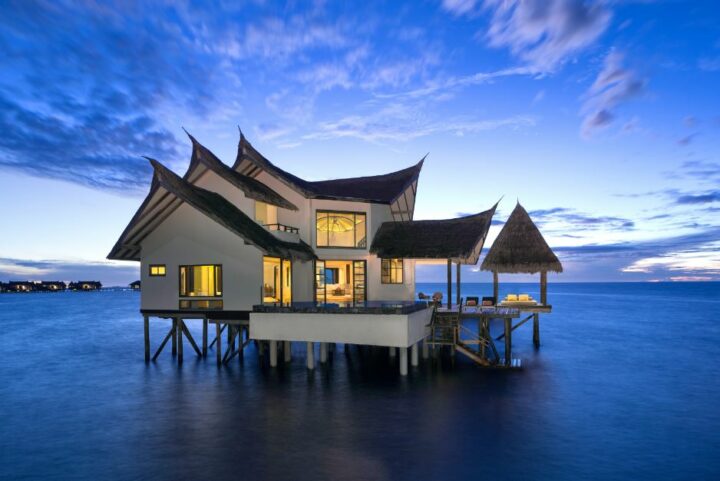 Jumeirah Vittaveli, the overall winner of 2017 World Luxury Hotel Awards
Jumeirah Vittaveli has been named the overall world's best luxury hotel at the 2017 World Luxury Hotel Awards. The 11th edition of the awards took place at the Kulm Hotel St. Moritz, Switzerland, where Jumeirah Vittaveli was named the 2017 Global Hotel of the Year.
Winners are based on the votes of 300,000 travellers who were invited to vote for their favourite luxury hotel over a four-week period. Established in 2006, the World Luxury Hotel Awards is considered the pinnacle of achievement in the luxury hotel category.
"Our most exciting challenge is defining the Global Hotel of the Year for 2017, the honours of which was awarded to Armani Hotel Dubai in 2016. This award is the highest accolade to achieve on the night and a multitude of factors come in to play when making this decision," said Joanna Evans, Marketing Communications Manager for the World Luxury Hotel Awards, commenting before the award function.
"Each hotel is looked at in detail concerning; votes received during the annual voting phase, overall guest satisfaction from online reviews, facilities at the hotel, design, location, branding, to name a few."
Located a short 20-minute speedboat ride from Malé, Jumeirah Vittaveli offers unmatched diversity, subtle luxury and personalised exploration. The resort comprises 89 villas and suites each with their own swimming pool and direct access to the beach or lagoon.
Other hotels from the Maldives which made it to the Global Winners list include;
Paradise Island Resort taking away the award for Best General Manager, and Luxury Water Villa Resort award,
Coco Collection winning the Luxury Brand award,
Constance Moofushi named as the best Luxury Eco/Green Hotel,
Kurumba Maldives taking away the award for the Luxury Family Beach Resort; and,
Jumeirah Vittaveli winning the Luxury Island Resort award.
JA Manafaru was also named a Regional Winner in the Luxury Honeymoon Resort category. For the full list of the 2017 World Luxury Hotel Awards, please visit luxuryhotelawards.com/winner/the-11th-annual-world-luxury-hotel-awards-winners.