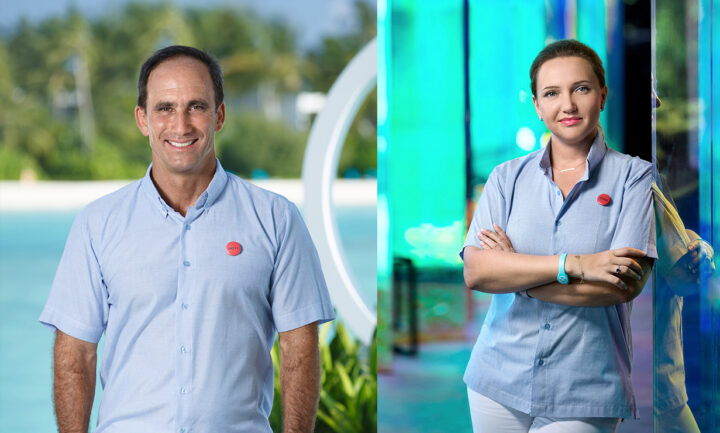 Kandima Maldives announces appointment of new senior management Krew
Maldives-based lifestyle resort Kandima Maldives is pleased to announce the appointment of two senior management krew members – General Manager and Director of Marketing Communication & PR.
The stylish resort island will be managed by Brett Castleman, who brings with him more than twenty years of international hotel management experience.Born and educated in South Africa, Brett boasts a distinguished hospitality career in 4 and 5-star properties across Africa, the Indian Ocean and the Caribbean. He completed his Degree in Hotel Management at the Durban Hotel School in 1990, before starting his hospitality career in Richards Bay, South Africa. In 2015 Brett also successfully completed the Harvard ManageMentor (HMM) course.
Having enjoyed many adventures around the world, including surviving Hurricane Ivan in 2004 while working in the Caribbean, Brett says he is "excited to be part of Kandima Maldives, and relish this wonderful opportunity to exceed guests expectations whilst ensuring that the resort runs at a high level of efficiency and profitability. I will also be focusing on Krew welfare and ensuring that they are happy in their working and personal living environment.  It is the software that matters!"
Brett's hobbies include surfing, kite surfing, SUP boarding, fitness and playing tennis.
Anna Karas, the newly appointed Director of Marketing Communication & PR, has significant experience as a public relations and media professional. She will lead Kandima Maldives' PR practice.In her role, Anna will be responsible for managing the Media Relations, Marketing, Advertising and Lifestyle Partnerships of the 272-villa resort.
Within over ten years of hospitality experience from the Maldives and Middle East, the Polish national brings with her extraordinary experience garnered from top hospitality brands, namely Waldorf Astoria, Anantara Hotels & Resorts, Warwick Hotels & Resorts and W Hotels. Anna likes diving, photography, graphic design and painting.
Sanjay Maniku, the new hospitality group Pulse Hotels and Resorts' Managing Director, says: "We are delighted to appoint these two exceptional individuals and for Brett Castleman to oversee our latest project in Maldives. I'm confident that Brett and Anna will add a new dimension to the guest experience at Kandima Maldives and contribute in achieving our group-wide targets with passion and style."