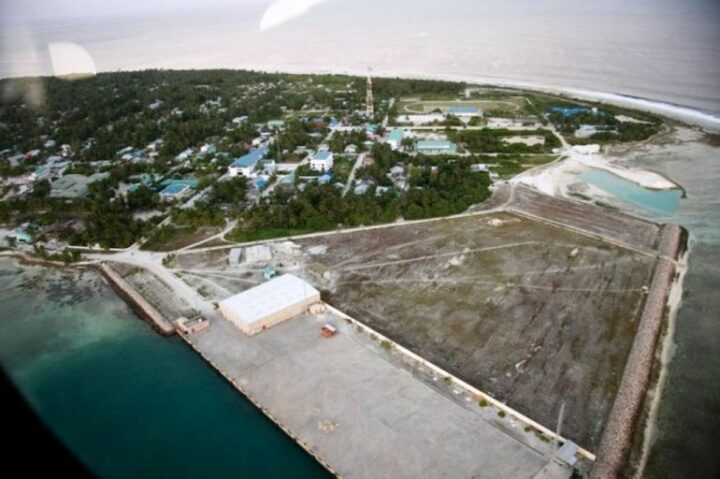 Kulhudhuffushi Airport project to be awarded this week
The government is planning to award the Kulhudhuffushi Airport development project, as a part of its domestic airport development project which could cost more than US$21.7 million from the state budget. The Maldives Transport and Contracting Company (MTCC) and Maldives Road Development Cooperation (MRDC) are among companies the government is considering for the contract.
"The review process of proposals would be completed this week and the project would be awarded to the company with the lowest development cost," says Moosa Zameer, the Tourism Minister, speaking to local newspaper Mihaaru. A total of 15 hectares, six from the Kulhudhuffushi's lagoon and nine from the island's wetlands, were reclaimed for the airport development.
Land reclamation for the airport was completed using a dredger brought in by MTCC. With a length of overall 92.95 meters and a hopper capacity of 3.700m³ per load, the dredger (Mahaa Jarraaf) is the largest in the Easydredge series of standard twin-screw trailing suction hopper dredgers, designed and built by Royal IHC.
The airport, which will have a 1,200-meter runway, is expected to be completed in mid-2018. Recently, a bid was announced, looking to develop a fire and rescue building under the Kulhudhuffushi Airport project. Zameer confirmed that the airport would house a prefabricated terminal and a fire and rescue wing.
The Northern Atolls, located far north of the capital city Malé and away from the usual tourist zone, is remote with many of the islands inhabited by the local population. The Northern Atolls are home to some resorts such as Soneva Fushi by Six Senses, the Four Seasons Landa Giraavaru, and the Waldorf Astoria's Beach House. The government has recently contracted both local and international companies to develop additional domestic airports across the country in an attempt to enhance tourism.Photography: Featured image of Kulhudhuffushi Island courtesy of Vnews.mv