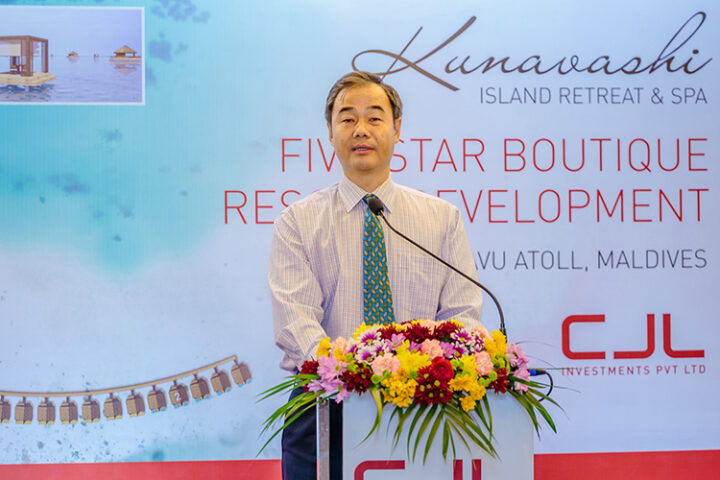 Kunaavashi Island to be first five-star resort developed by private Chinese company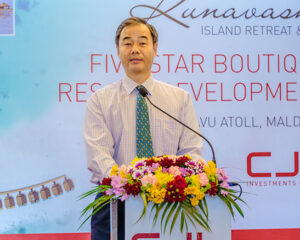 The development project of a five-star resort on the island of Kunaavashi, Vaavu atoll, has been revealed by Minister of Tourism Ahmed Adeeb. This will be the first investments project in the Maldivian tourism development sector by a Chinese private company – CJL Investments Pvt. Ltd.
Speaking at the ceremony, Mr. Chujin Liang, Chairman of CJL Investments Pvt. Ltd, said that the project was based on five main principals that would be mutually beneficial for both parties.
According to the press release by CJL Investments, the first principal would be to assure that CJL Pvt. Ltd is committed to investing in the Maldives for the long term. Second, that commitment means CJL Investments will bring sufficient capital, continuous holiday makers and fresh thinking from China. Third, the company will foster local management, talent and know-how to work efficiently within the domestic system in Maldives. Fourth, the company will develop a new green economy to maintain Kunaavashi Island as the best-kept and untouched island. Lastly, CJL Investments will help to integrate Maldives into the dynamic tourism economy in China through the company's well connected marketing network and close ties with Chinese tourism authorities.
Mr. Adeeb, speaking at the ceremony, highlighted the fact that the Chinese market accounted for nearly one-third of tourist arrivals in the Maldives last year.
Kunaavashi Island is located in Vaavu atoll which is famous for having some of the most beautiful dive points in the Maldives. The 1.5 hectare island is to be increased to 3 hectares, which will be able to accommodate 71 Villas in total. The project is due to start in September this year, and will be completed within 14 months.
The announcement comes just weeks after the Maldivian government signed an agreement to lease an island for resort development to government-run China Machinery Engineering Company (CMEC), the largest engineering and trade company in China.