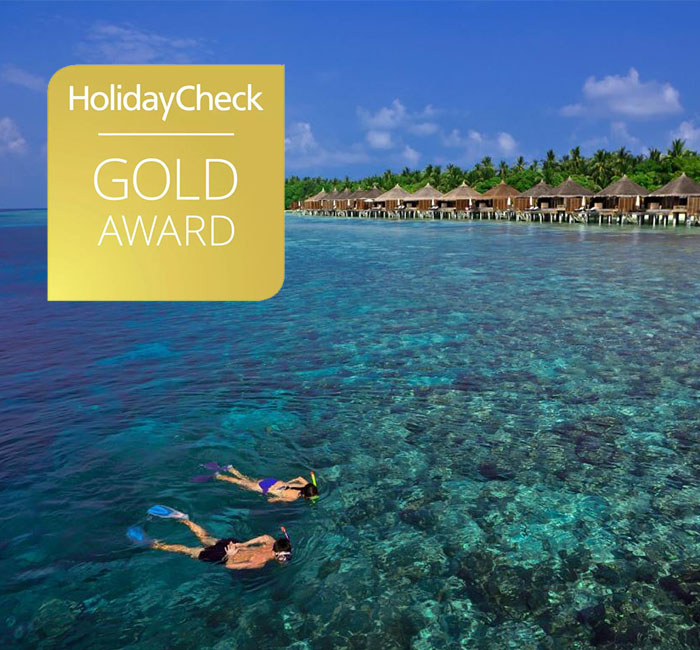 Kuramathi and Meeru honoured with HolidayCheck Gold Award 2017
Two properties in the Maldives, Kuramathi Maldives and Meeru Island Resort and Spa, have been awarded the HolidayCheck Gold Award 2017. The HolidayCheck Award – by renowned  German travel review website – is presented to the most popular hotels worldwide and is based on guest reviews on HolidayCheck within a period of twelve months.
Kuramathi Maldives and Meeru Island Resort and Spa were honoured with the HolidayCheck Gold Award, amongst 33 accommodations which have been winners of the HolidayCheck Award receiving consistently excellent reviews for at least five years in a row.
Walter C. Kaufmann – General Manager at Meeru Island Resort was grateful for the good reviews received by the property, and said: "This is a truly great achievement. A very big thank you to all our many guests, repeaters and first timers alike. This is your award.
"I and my entire team see this as an inspiration and as a mandate to take Meeru to even greater heights in the months and years to come."
Criteria for the award include receiving a minimum of 50 reviews, a 90% recommendation rate, and adhering to the Code of Conduct in 2016. All in all, 695 hotels in 35 countries and 145 regions have been selected as exclusive winners of the Award! HolidayCheck is one of the strongest neutral quality webpages in the world, particularly used by German speaking travelers. However, the webpage is available in 13 different kind of languages.