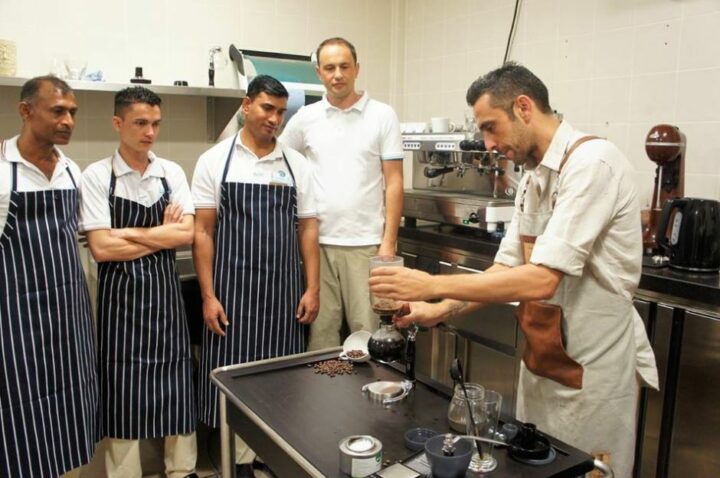 Kuramathi Island Resort unveils new coffee extravaganza
Kuramathi Island Resort has introduced a new menu featuring 30 different coffee beverages to choose from. The choices of hot and cold coffee include widely popular picks such as the Freddo Espresso, Freddo Cappuccino, and Cold Mochaccino & Cold Café Latte.
"We are also excited to introduce hot signature coffee based beverages, tailor-made just for us," says Kuramathi Island Resort.
The new menu follows the competition of a comprehensive course in advanced barista techniques and coffee brewing. The training was conducted by coffee artisan Giorgos Atsopardis, who is a certified Specialty Barista, certified Specialty Brewer and a finalist in the National Barista Championship in Greece in 2009, 2010 and 2011.
"Originally from Greece, he contributed 20 years of expertise and wisdom in the coffee industry to the team of Kuramathi," adds the resort.
Some of the highlights from the new menu include, "Kuramathi on Ice" – made up of espresso, cold chocolate, a scoop of vanilla, cinnamon powder, and caramel syrup and the Freddo Cappuccino – Espresso poured in iced creamy milk and the Cold Mochaccino – Espresso with cold chocolate.
In addition to the three main restaurants where international buffets are served for breakfast, lunch and dinner, Kuramathi offers an incredible nine a' la carte restaurants offering a range of cuisine to suit all palates.  With the addition of the sky bar, the resort now features six bars around the island serving classical and tropical cocktails.
Kuramathi is one of the first resorts to open in the Maldives and is part of the Universal Resorts group. Kuramathi is a stunning island retreat with acres of luxuriant vegetation surrounded by beaches tapering into an endless sandbank. Villas blend contemporary design and nature and are set along the beach, amongst lush gardens or over water.