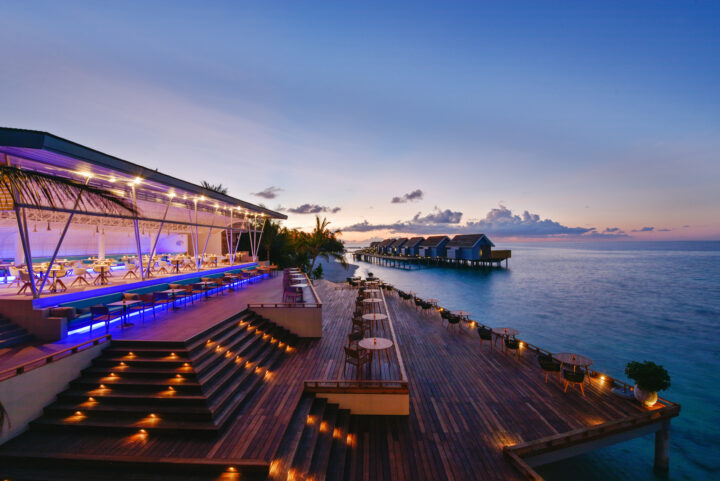 Kuramathi introduces new à la carte menus at four of its signature restaurants
Kuramathi Maldives has upgraded the à la carte menus at four of its signature restaurants.
The Reef, coined as a guest favourite and a classic of the resort, is set over-water and provides stunning views of the teal-tinted lagoon making it a popular choice for its return guests, honeymooners and those that crave fresh fish caught from the abundant local waters.
Ten new dishes make their way into the menu including caramelized scallops, Maldivian yellow fin tuna, crab and lobster tortellini.
Inguru is the newly opened Asian fusion cuisine restaurant that is open from morning until late evening. Featuring an international menu during the day, the restaurant offers a myriad of flavours inspired by the Far East to Vietnamese, Singaporean and Indonesian influences.
One highlight of this restaurant is its spacious seating and the panoramic views of the ocean on its three-tiered deck. Notable mentions on the menu include peanut crusted soft shell crab, slow cooked Maldivian red snapper, Miso lamb rump as main course and banana & jack fruit spring roll and lychee panna cotta & pomegranate jelly.
Duniye is Kuramathi's fine-dining gastronomic restaurant. The combination of its elegant ambiance and a mouth-watering menu is what makes this venue an unforgettable experience for its many guests.
Echoing Beyoncé's famous hit single 'Who run the World' as one of its themes due its all-female crew; Duniye concocts the best dishes on the island as reviewed by many guests on Tripadvisor.
New additions to the menu including 'Le foie gras in 4 techniques', salmon tartare in Far East flavour, Yuzu Kosho marinated tiger prawns and Thai fresh-water shrimp carpaccio are a few honorable mentions in the menu.
Kuramathi offers 9 à la carte restaurants and its value added Select All Inclusive package gives guests access to all of them.