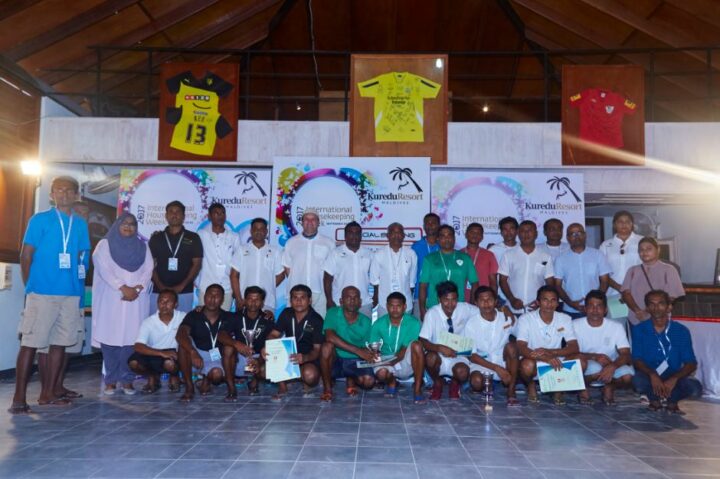 Kuredu hosts Lhaviyani Housekeeper's Challenge
Kuredu Island Resort and Spa has hosted the first "Lhaviyani Housekeeper's Challenge" this September. The competition was organised by the Housekeeping Team of Kuredu Island Resort & Spa, in order to celebrate the International Housekeeper's Week. Kuredu Team came up with a week-long programme of several internal competitions and activities among their team members. The week was concluded with "Lhaviyani Housekeeper's Challenge" where teams participated from other resorts based at Lhaviyani Atoll.
All the resorts currently operating at Lhaviyani Atoll were invited to participate in the Lhaviyani Housekeeper's Challenge. There were five resorts which participated in this year's challenge which was; Atmosphere Kanifushi Maldives, Kanuhura Maldives, Komandoo Maldives Resort, Hurawalhi Island Resort and Kuredu Island Resort. The event was held at Kuredu "Ekuveni" – a gathering hall for team members.The team from Komandoo took away the first place in the competition, while the teams from Atmosphere Kanifushi and Kuredu Island Resort won the second and third place, respectively. The task for participants at Lhaviyani Housekeeper's Challenge was to complete a themed bed decoration within 30 minutes.The rules of the competition were; each team will complete the task from making the bed to finishing the decoration within the given time frame. Teams were allowed to use Towel Art/Origami as part of their decoration. However, all the materials used for decoration should be prepared and carved on the spot within the given 30 minutes.
Each team was made up of three members and a Team Leader from their designated resort. Team Hurawalhi and Team Kanuhura chose "Honeymoon" as their theme, Team Kuredu chose "Romantic", while Team Komandoo chose "Birthday" and Team Atmosphere Kanifushi chose "Nature" as their bed decoration theme for the competition.A panel of Judges was invited by Kuredu for the competition. The three main judges who participated on the panel were Associate Lecturers from the Faculty of Hospitality and Tourism Studies (FHTS), Maldives National University. The Chief Judge was Mohamed Faisal, along with Hashma Adnan and Ismail Shiyar.Imran Mohamed, Assistant Executive Housekeeper of Kuredu, pointed out that priority was given to have an independent judging panel not representing any of the participating resorts in order to maintain the credibility of the competition.
"It was a great opportunity and an experience to be a part of the International Housekeeping Week at Kuredu. All the participants have done a fantastic job, showing an incredible amount of team spirit and enthusiasm. During the competition, we evaluated timekeeping, teamwork, finesse, creativity and relevancy of chosen theme. In general, it was very difficult for us to select a winner since all the teams performed very competitively," says Mohamed Faisal, Chief Judge, speaking with Hotelier Maldives."In my opinion, all were winners, however as a competition, there can only be one winner. The champions won by a narrow margin. In future, I hope to see more participants with creative designs. This was an excellent opportunity for room attendants to show their hidden talent."At the end of the competition, Hotelier Maldives met with the Group Leaders regarding their thoughts on choosing a theme. The leader of Team Kanuhura, Ahmed Shujau, Housekeeping Supervisor stated that their honeymoon bed decoration was a special set-up for the competition and that the whole team came up with their idea.
Winning team Komandoo was inspired by a number of birthday decorations which they have to do. "Usually we get 4 to 5 rooms per day as Birthday Decoration. This set-up is something we do every day for our guests. This is an enhanced version of our daily set-up," says Hamid, Komandoo Team Leader.
"Maldives is known for Sun, Sea its tropical coconut palm. Most teams will come up with the standard honeymoon or romantic bed decoration. We decided to go with Nature to represent Maldives. This is something which we can do for a special guest like a VIP or for someone who visits Maldives for the first time," says Ahmed Zaki, Executive Housekeeper of Atmosphere Kanifushi.According to Abdulla 'Abjee' Ibrahim, the Executive Housekeeper of Kuredu, this is the first time Kuredu has attempted to host such a challenge in the area of Housekeeping in an inter-atoll level. He also highlighted that this is also the first time their management company, Crown and Champa Resorts (CCR) has held such a challenge as well."Such a competition helps us create a bond with neighbouring resorts. It encourages everyone to acknowledge the hardworking housekeeping teams in our resorts opening up opportunities for cross training. These challenges work as a knowledge transfer platform. A competition helps them learn time management," he says.
According to Patrick De Staercke, General Manager of Kuredu Resort the importance of hosting this event was that the housekeeping department is one of the core elements to any successful resort. It's a department that never sleeps so that guests can sleep in a clean, safe environment.This event is a way that GM Patrick and Kuredu can show their appreciation for the dedication of the team players that work in housekeeping. In his perspective, the benefit of having a healthy competitive environment among neighbouring resorts creates team spirit and opens an easy communication channel for future dialogue and cooperation between our fellow resorts."Housekeeping week is and will remain a special week here in Kuredu where we have an opportunity to thank not only the Housekeepers here in Kuredu but other resorts in the Maldives," says Patrick.
"I hope in the future we can organise more events like this, to celebrate the work of our wonderful teams here in Kuredu and other resorts in the Maldives. I do not take my biggest asset for granted, which is the team I have. My team is the number one reason why my guests keep coming back to Kuredu. Take care of your team and they will take care of your guests."
The competition was concluded with a small awarding ceremony. Trophies and certificates were handed over to the winners and participating teams by Patrick. Certificates of acknowledgement for designated departments which helped in making the event a success was handed over by Ibrahim Sobir, Financial Controller of Kuredu. Certificate of participation for Judges and other sponsors were handed over by Mini Paul, HR Manager of Kuredu.
"It was great to see other resorts having fun chatting and sharing ideas with each other. I thank Abjee, Executive Housekeeper of Kuredu for taking the initiative and organising this wonderful event. I look forward to next year," Patrick adds.
The General Manager of Atmosphere Kanifushi Maldives, Maurice Van Den Bosch was present with other invitees. Heads of Departments and team members from participating resorts were gathered to watch the competition live in order to show their support and to celebrate the International Housekeeping Week 2017.