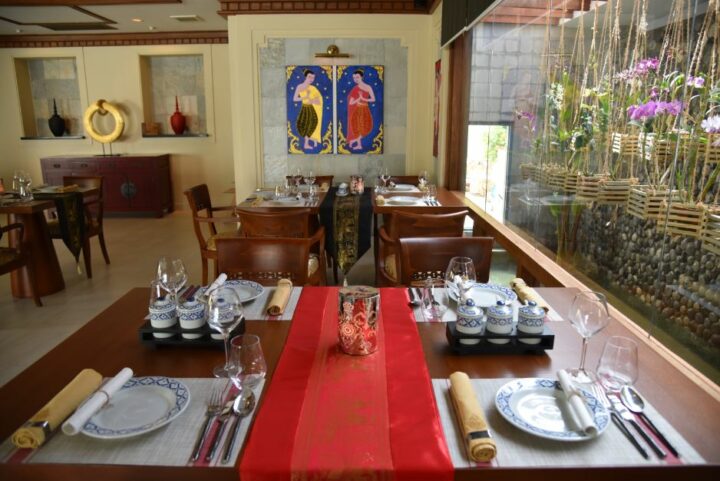 Khing Thai – To Thailand, with love from the Maldives
Only a brand like Kurumba can make a word like 'pioneer' seem overused and drab in comparison. Though they wear the title of being the first five-star resort in the Maldives well, Kurumba is so much more than that. Perhaps their greatest accomplishment is that amongst one of the most thriving hospitality industries in the world they've not only managed to keep up with an ever-changing pace – they've been proudly reinventing themselves since 1972.
The only resort in the Maldives that has been winning worldwide recognition in the form of international awards for nearly a decade; it won TripAdvisor's Best All-Inclusive Resort in Asia in 2016, TripAdvisor's Best All-Inclusive Resort Worldwide in 2015 (4th place in 2016), and Maldives Leading Resort 2016 at the World Travel Awards – just to name a few.
Host to eight restaurants and three bars, the culinary experience is a major ingredient in the highly acclaimed Kurumba formula; and in rebranding their 'East' Restaurant to Khing Thai, they've definitely added to reestablish their lead.As Director of Food & Beverage Jose Xavier Dias aptly put it – Kurumba gives the beautiful island getaway a twist by transporting their guests on little adventures within their trip, across the world journeying by cuisine.Gazing from across the Mughal-esque domed windows of the unmistakably Indian 'Mahal' Restaurant to the Marrakesh evoking doorway to the Arabian 'Al Qasr', one as distracted as I nearly missed the pathway to a more subtly beckoning 'Khing Thai'.
Stepping onto the wooden threshold seemingly led me straight into the heart of Thailand, and as I made way across with elaborate wood carvings and shining gongs, I was transported off the island to the land of smiles.
In Thailand, 'Khing' means ginger, a fundamental part of their cooking. Whilst name itself seems to symbolize the authenticity of the place as all three chefs, two waitresses and waiter, are all from Thailand as well and it definitely enhances the realism of the atmosphere."Sous-Chef Kun Risa brings a distinctly feminine touch to the kitchen," said Executive Chef, Denis Vecchiato. "She makes all of our sauces and pastes by scratch using fresh ingredients, sourced locally and from Thailand and it makes all the difference."As we admired the unique Maldivian touch lent to the restaurant by stunning depictions of Thai Art painted by Kurumba's very own Ali, we were served with prawn crackers and I had to promptly make a mental note to not fill up before the actual degustation was served!
"It takes the right chef to create the right flavour", chuckles Chef Dennis, leaving me to my meal. Kurumba's definitely got that right!
Our appetizers were all exquisite but the highlight of the night was a bowl of the best Tom Yam Soup I've ever tasted outside of Thailand, and even then, it's an extremely close call. One that might require me returning to both chefs, and sample more… just to be sure!
The meal was a night of honouring and paying homage to the classics. Our taste buds were tickled first by an array of savoury starters like Pandan Chicken, Crispy Fried Wonton Tod and Tod Man Pla Fish Cakes.  Followed by entrees like a Steamed Maldivian Sea Bass fillet, a delicately spicy Green Curry, Tiger prawns in a rich red curry sauce with coconut milk absolutely took the meal over the edge. In the aftermath of our little Thai journey, Mango and Sticky Rice and a couple of Banana Fritters was just the right amount of sweet indulgence.Whilst I'm a fan of new gastronomic innovation, be it in the form of molecular experimentation, or seamlessly woven cultural marriages but I have a certain weakness for cooking that is romantically devoted to its true origins, like the comforting flavours of an authentic home cooked Thai meal.Yes, Khing Thai is a far cry from Asian Fusion eateries popping up around the world – serving mouthwatering dishes with a timeless elegance. Khing Thai's menu also pairs with a selection of crisp, dry and rich Thai wines to match every fancy.
After our incredibly filling meal, we stretched our toes into the soft embrace of fine white sand under full moon skies in the lounge area. Hard not to get caught up in the moment. I hadn't been to Kurumba in over a decade, and to be honest, I had walked in completely expecting to see the old, drab and familiar. Instead, I'd been pleasantly surprised by how stunning the resort was, by the intricate detailing of the 'Khing Thai' and the bursting flavours we were treated to.
Just in case anyone else happens to be as mistaken as I was, let me reassure you that Kurumba has plenty to offer even the most discerning of palates. And should you find yourself lucky enough to be seated at Khing Thai, do order the Tom Yam and feel free to send me an invite!