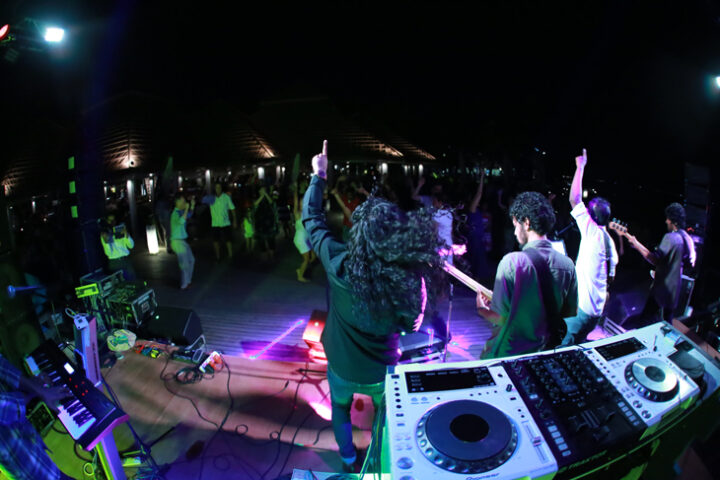 Kurumba Maldives hosts 'Party with a Purpose' for 5th consecutive year
On 21st April, Kurumba Maldives hosted their annual 'Party with a Purpose' charity event. This is the fifth consecutive year of the successful event.The event is held each year in aid of the Kudakudhinge Hiyaa orphanage located in Villingili and Hulhumale'.
Kurumba Maldives, with the help of local musical acts and sponsors helped raise over USD 23,000 for the children at the orphanage. From 5:00 pm to 12:00 am, some of the top names in the local music industry such as Island Fusion, Passive Harmony, Flower Rain, Mishy, Mira, Rishvan Imon, Def Note, DJ Paide', DJ Maapu and Ammadey performed at the Kandu Bar.
Local and foreign suppliers contributed with diverse goods as a means of contributing to the fund raising event.
The event also held a silent auction with the support of 24 resorts and 3 major airline carriers as sponsors. This year, the resort also counted on the support of Think Maldives and Digital Studio for photography and videography purposes.
Ali Farooq, assistant food & beverage manager and champion of ARC and the orphanages commented: "This is the 5th consecutive and successful year for Party with a Purpose. We are very thankful for the vast support and contributions of performers, suppliers, resorts, airlines, and attendees. This is a great achievement for us and we are very proud to support our local community, ARC, and the Kudakudhinge Hiyaa orphanage. We will strive to continue with this charitable event, year after year."
This upcoming year, funds will be raised to aid the non-governmental organisation ARC (Advocating the Rights for the Children).