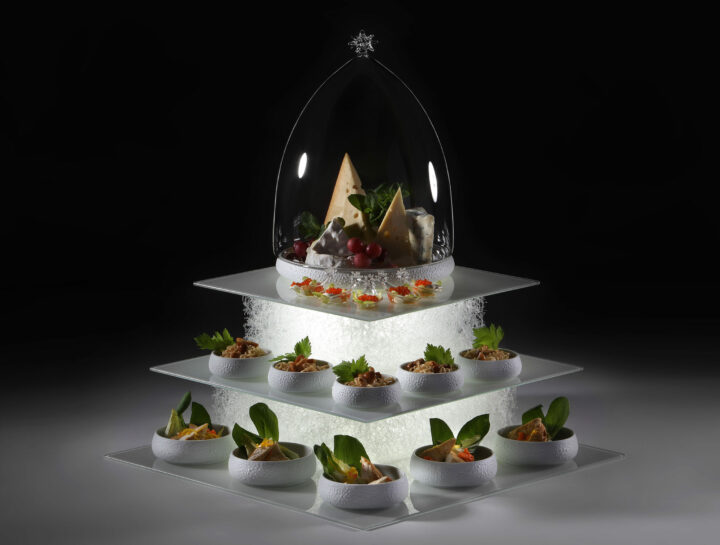 Light up the buffet with Zieher Textura
Zieher's "Textura" series buffet risers are a true marvel of design. The structure consists of thin polyethylene filaments which are intricately intertwined and fused together. The design affords a flexible but incredibly stable texture.
The true beauty of the blocks is revealed when they are lit up using the rechargeable Zieher LED lights which fit into the bottom of the blocks. The light spreads through the polyethylene filaments creating a soft glow. At a distance, it seems that the buffet items are floating on a bed of ethereal light or tiny droplets of water, frozen in motion.
The "Textura" buffet cuboids are available in two sizes and can be stacked on top of each other, creating different presentation levels on the buffet. The mix of materials and structure also gives them a naturally non-slip texture allowing buffet trays and platters to be reliably kept in position.
Designed to live up to the high demands of gastronomy and catering, "Textura" displays are indestructible, washable, dirt repellent and very light. The countless interspaces which give the blocks their beauty also aids the units in drying very quickly, giving them mould and humidity resistant properties.
The polyethylene used can be recycled repeatedly without losing its properties and characteristics. It is also non-hazardous, odourless, tasteless and resistant to a variety of acids, oils and grease.
Established in 1986 in Germany, Zieher stands for innovative design, both in the tabletop and buffet section of the service industry. The company's main target audience is five-star hotels, top-class restaurants and innovative gastronomy where top-chefs create new trends.
Zieher offers a wide array of products ranging from china and glassware to buffet and display stands. The company will be participating in the upcoming Pro Wein in Dusseldorf from March 17 to 19, and the FHA in Singapore from April 24 to 27.