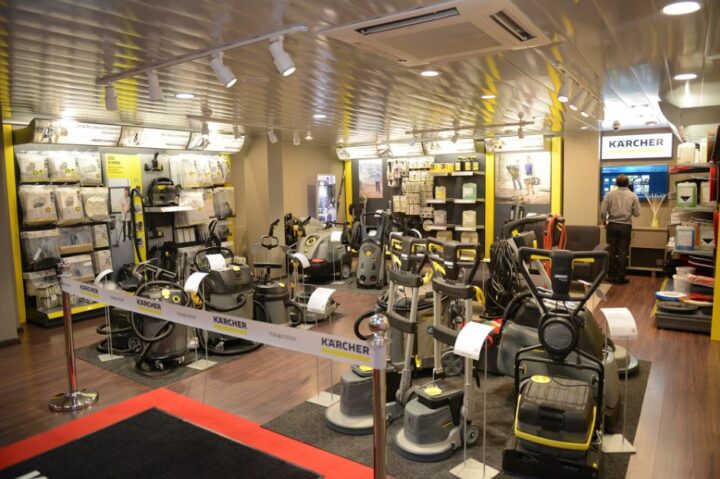 Sonee Hardware unveils new Kärcher Store
Sonee Hardware has unveiled the Kärcher Store – an outlet dedicated to Kärcher products. Kärcher is a Germany-based company dealing in world-class cleaning equipment and is today the global market leader in cleaning technology.
The Sonee Hardware Kärcher Store is located on the first floor of Sonee Hardware Professional, in Majeedhee Magu. It was officially opened by Axel Stolz, Vice President of Kärcher International, and Moosa Kaleem, the Managing Director of Sonee Hardware.
Kärcher deals in high-pressure cleaners, floor care equipment, parts cleaning systems, wash water treatment, military decontamination equipment and window vacuum cleaners. The new outlet offers customers the chance to test the products, according to Sonee Hardware.
"Our Vision of making Sonee Hardware 'Your Favourite Hardware Store' is an endless pursuit of excellence in a competitive market where we set trends," says Moosa Kaleem.
"Sonee Hardware is driven by an energetic and customer-friendly team of highly-skilled and proven workforce. The satisfaction of our customers and the quality of our products are two key areas where we do not compromise on."Sonee Hardware has been distributing Kärcher products for the past ten years. It also provides warranty, inspections, repair, maintenance and after sales services for Kärcher products. It recently launched two new Kärcher products; the Kärcher Cordless Electric Broom KB 5 and the Kärcher Handheld Vacuum Cleaner VC 5 premium. Kärcher has its outlets in over 190 countries across the globe, with the 595th outlet opened in the Maldives.Sonee Hardware now has a total of seven outlets in which the company has diversified into various different areas of businesses; with THE SCENE being the first intelligent showroom of its kind and a clear paradigm of its commitment to customers.
In addition to professional cleaning equipment, Sonee Hardware also deals in bathroom, building materials, construction chemicals, electrical, fishing tackle, fixing systems, gardening tools, hand tools, hardware, home and garden, kitchen, light bulbs & accessories, lighting fixtures, paints and wallpapers, power tools, wood preservative and coating products. To learn more about its products and services, please visit sonee.com.mv.