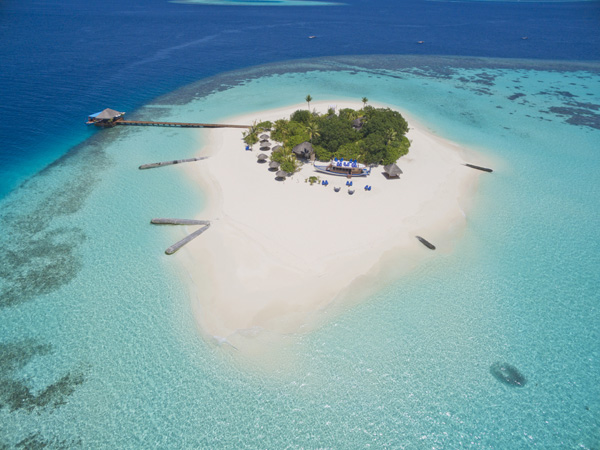 Lonubo's newest addition; The Dhoni Sunset Bar and Restaurant
Idyllic and isolated, Maafushivaru is a gem of an island in the enigmatic South Ari Atoll. Saunter barefoot in soft powder white sand, naturally dense with lush flora and blessed with an incredible turquoise lagoon.
Minutes away is Lonubo, its very own desert islet where spending an overnight is but a distinct possibility. The Dhoni Sunset Bar and Restaurant is the most recent addition to Lonubo.
The venue is a traditional wooden Dhoni, authentic in design and rustic in nature set right on the wide sweeping beaches providing stunning scenic sights of the sunset. Guests can now plan their evening ahead and take a transfer to Lonubo if they wish to sip cocktails or toast glasses of wine while admiring the tranquil twilight of the Maldives seated on bean bags.
Else they could also opt for a delicious meal in the Dhoni on the beach with a splendid set up complete with candles and flower decoration on table. Romantic much indeed! Apart from being a lovely venue for the romantics, Lonubo offers a myriad of adventures with its vast lagoon and encircling house-reef.
Choose to snorkel and uncover hidden aquatic treasures or journey your way on a stand up paddleboard, kayak or pedalo around the island.
Maafushivaru Maldives is a typical island epitomizing all the one dreams of when thinking of the Maldives. With its small island charm, lush vegetation surrounded by the white beaches and a house reef that provides an enchanting snorkelling experience.
The island is just over 500 metres in length and even has its own baby island, Lonubo, just 5 minutes away. Lonubo is exclusively for the use of Maafushivaru guests and a holiday on Maafushivaru will not be complete without at least one visit to this beautiful deserted islet. Refurbished in 2010, the resort is owned and managed by Universal Resorts.