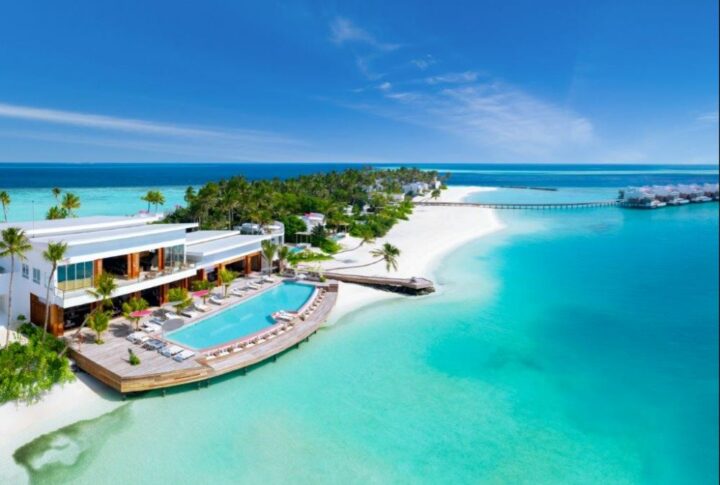 A new perspective on luxury: LUX* North Malé Atoll to debut in February
The soon to be opened LUX* North Malé Atoll has been described as the introduction of the next level of luxury to the Maldives. Debuting on February 1st, the resort will come fully equipped with over-sized, penthouse residences, upstaging the traditional thatched villa vibe.
The resort also promises pure peace and pampering for its guests so that they can reset, recharge and recalibrate uninterrupted on this heavenly island. Just a short transfer from Malé city by luxury speedboat or a scenic seaplane trip, it is easily accessible, while providing the fresh peace and quiet that the mind yearns after a hectic city life.
Crafted by Singaporean design house Miaja specialising in styling unique properties to reflect the beauty and charm of their surroundings, it has taken years to painstakingly perfect this resort on the island of Olhahali. The resort will be home to 67 double-storey residences each featuring a private pool.
Speaking about the inauguration of LUX* North Malé Atoll, Dominik Ruhl, Chief Operating Officer of The Lux Collective said, "We are so excited to be opening a truly different resort which dares to get away from what we call the 'sea of sameness' with a thoroughly original approach to a luxury Maldivian holiday.
As well as offering a fresh alternative to the Indian Ocean's traditional thatched villas thanks to our penthouses and nautical design, there are lots of impressive new services and surprises — all part of our intention to create an exceptional Maldives experience for those wanting uncompromising personal service and first-class facilities as well as unexpected touches and a lighthearted atmosphere.''
Dominic also added, "Guests spending their precious time away with us can rest assured that the team at LUX* North Male Atoll will make every moment matter."Each of the residences sit right on the beach or over the water with living areas that are at least 350 sqm. These breezy, spacious villas host a choice of spaces in which to eat, drink and relax, treating guests to continuous pastel panoramas of the Indian Ocean.
INTI, the Peruvian-Japanese restaurant with a sushi bar is headed by Chef Gaston, the Maldives' only Peruvian chef. Exotic and exciting cuisines laced with tastes from Peru, Argentina, Japan, Ecuador and Mexico will be available at the restaurant. At GLOW, the best of European classics is on display, ranging from Italian and Spanish delicacies to South East Asian specialities.
The resort will also be home to a spectacular reef, metres from the beach, and entertaining guests with tropical fish, stingrays and the occasional pods of dolphins. It will also have a world-class PADI dive centre and access to the Maldives' most famous shipwrecks and caves.
Speaking about why he believes LUX North Malé Atoll is so special, John Rogers, General Manager of LUX* North Male Atoll said, "We have carefully created a team that is dedicated to providing genuine, meaningful experiences and making each moment matter. I am proud and excited to help LUX* nurture a unique new destination in the Maldives. Our journey is about to begin, and we are looking forward to making LUX* North Malé Atoll stand out on the map by creating a world-class resort which takes innovative luxury hotel experiences to the next level."
LUX* North Malé Atoll will also be the perfect example of the companies sustainable tourism development initiative. It has recently embarked on a journey towards a carbon clean future through its project "Tread Lightly", aimed at curbing the carbon footprint of guests during their stay.
These are just a few of the many features that makes LUX* North Malé Atoll, a very special opening for the year 2019. For more information www.luxresorts.com/luxnorthmaleatoll.