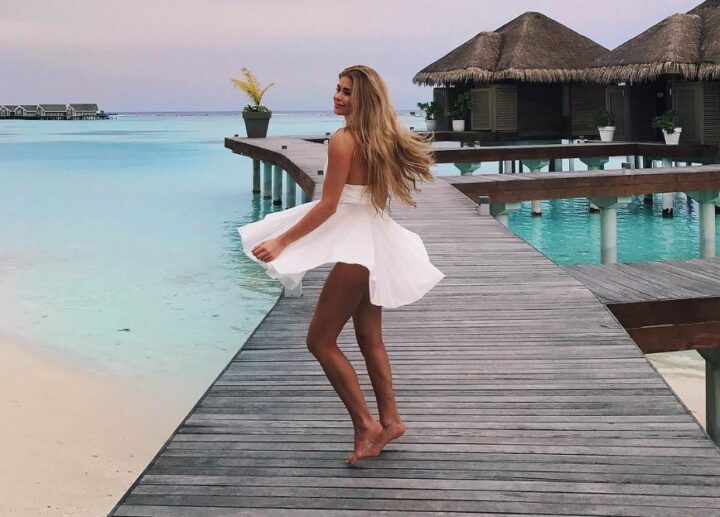 Lux* South Ari Atoll hosts Expert Workshop with renowned fitness icon Pamela Reif
LUX* South Ari Atoll has hosted workshops with celebrated German fitness icon Pamela Reif. The two-hour workshops, held as part of the resort's Expert Workshops initiative, were held November 7 and 8.
The 21-year-old fitness icon rose to fame when she began posting fitness content on social media, mainly Instagram, where she currently has over three million followers. In addition to fitness photography, she promotes apparel fashion, fitness products, beauty secrets and nutritional dieting on her Instagram account; @pamela_rf and on her personal websites; pamstrong.com and aboutpam.com. One of Germany's dominant fitness influencers, Pamela published her first book about fitness and lifestyle in 2017, titled Strong & Beautiful.Pamela conducted two workshops; "Sexy Legs" introduction: 45-minute legs and butt workshop, 15-minute cool-down and a Q&A session; and "Last Minute Bikini Body" introduction: 45-minute workout for toned arms and belly, 5-minute cool-down and a Q&A session. The workshops were a part in the string of workshops LUX* Resorts & Hotels have collaborated with experts of various fields of creativity, healthy living and lifestyle on, to inspire their guests to dabble in new arts and adopt fresh perspectives in life.In July 2017, the resort conducted a travel writing workshop, The Art of Travel Writing with Juliet Kinsman, to motivate their guests to document travel experiences in more creative and engaging formats. Following the travel writing workshop, in August 2017, a workshop titled Tibetan Sound Healing was directed by Phoebe Joel and within the same month, masterclasses in DIY Kombucha and the hottest trends in Health Tonics were led by Gillian Kozicki for those looking for new health experiences.
In November 2017, DIY Chinese Medicine Therapies with Moxa Punk is in the schedule as well as a Japanese Bookbinding session with Michelle Lackenby in December 2017, ensuring that LUX* South Ari Atoll has a full calendar of engaging and inspiring activities planned throughout 2017. To learn more about Lux* South Ari Atoll, please visit luxresorts.com/en/hotel-maldives/luxsouthariatoll.