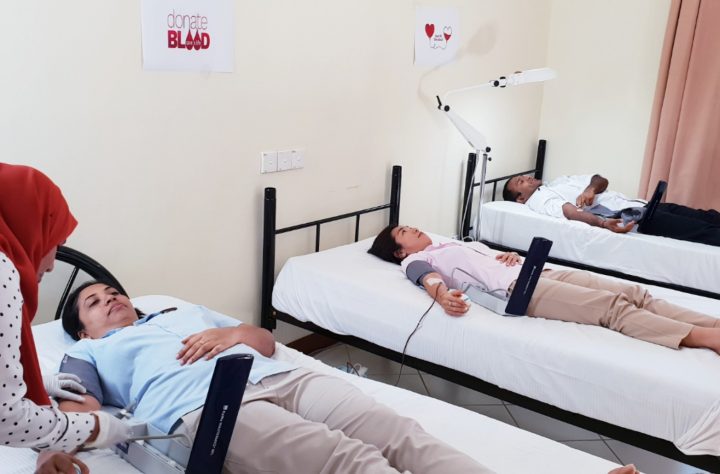 One&Only Reethi Rah holds blood donation camp as part of CSR initiatives
One&Only Reethi Rah hosted a blood donation camp as part of numerous CSR projects that have been conducted throughout the year. For the one-day camp held in the colleagues' village, One&Only Reethi Rah collaborated with the Maldivian Blood Services (MBS) and a total of 104 colleagues' donated blood.
The camp was overseen by Dr Ikleel Shareef, the contracted MD for the resort, alongside representatives of MBS. The representatives comprised of an expert medical doctor and five nurses from the MBS. The camp was exclusive for One&Only Reethi Rah employees, and this was well received from the overwhelming response of employees showing their support.
In addition to the donation camp, this October, the resort has hosted several fundraising projects in affiliation with the Cancer Society of Maldives as well as UK-based non-profit organizstion, the Olive Ridley Project, who have partnered with the resort to further their work protecting the Indian Ocean and Marine life from ghost nests through research, removal and awareness.
As part of the partnership with the Olive Ridley Project, One&Only Reethi Rah is set to be the first resort in North Malé Atoll to house a rehabilitation centre for injured sea turtles at the resort's Dive & Excursions Centre. The resort held fundraising events over the last few months to raise awareness and support this project and the construction of the specialist tank.
Jan Tibaldi, the General Manager at One&Only Reethi Rah, spoke extensively about the purpose behind hosting such fundraising events and donation camps. He expressed, "As a leading resort with a strong influence in the market, it is our responsibility to take the initiative and support the causes that have a positive impact on the wellbeing of the environment and the society."
He added, "In addition to the resort's support for CSR initiatives, One&Only Reethi Rah is proud to partner with several organisations working towards ocean preservation and healthy marine life in the country. One&Only Reethi Rah is proud to work together with Parley and Project Zero to create a sustainable future and lead the way for other resorts in the Maldives to protect this unique part of the world."
One&Only Reethi Rah is located on one of the largest islands in North Malé Atoll, surrounded by the wonders of the Indian Ocean. To learn more about the resort and it's many CSR initiatives, visit https://www.oneandonlyresorts.com/one-and-only-reethi-rah-maldives