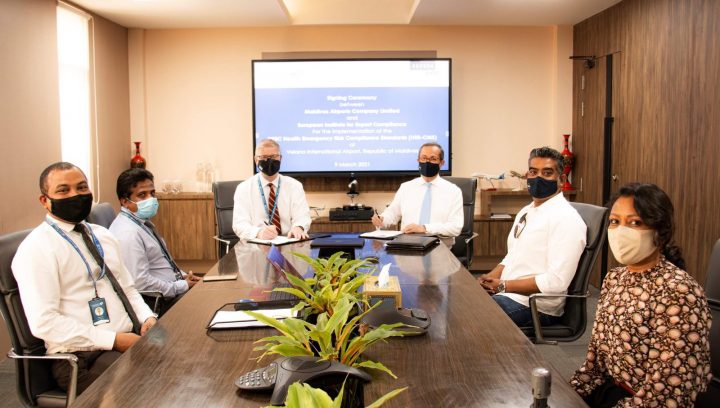 MACL and EIFEC Signs MoU to Implement Health Emergency Risk Compliance Management System at VIA
On 9th March, a memorandum of understanding was signed between the European Institute for Export Compliance (EIFEC) and Maldives Airports Company Limited (MACL) to implement the Health Emergency Risk Compliance Management System (HER-CMS) at Velana International Airport (VIA).
Following this event, Velana International Airport of the Maldives, the main Gateway of the destination becomes the first airport in the country to be "vaccinated" with international compliance standards.
Under this memorandum, EIFEC will assist to design, prepare and implement the Health Emergency Risk Compliance Management System in epidemic context at VIA. The training of Compliance Officers will be conducted by a team from the University of Turin jointly with trainers by the Maldives National University. EIFEC Compliance Standards and certification have been endorsed by the Ministry of Tourism and the Health Protection Authority (HPA).
Implementing these Standards is an effective tool for countering pandemics' negative consequences, starting with the current COVID-19. The certification of the relevant Compliance Management Systems will quickly relaunch and strengthen the Maldives' economy. The certified HER-CMS will directly benefit the whole chain of travel related operation inbound, out bound and within the Maldives.
It would integrate all systems established at VIA to combat the global health emergency risk into one functional system to maximize its efficiency. Moreover, the Airport Certification would also provide further assurance to visitors that VIA is adhering to international standards and best practices and is committed to providing a safe environment for them. Boosting travel confidence is one of the key measures to increase arrival numbers.