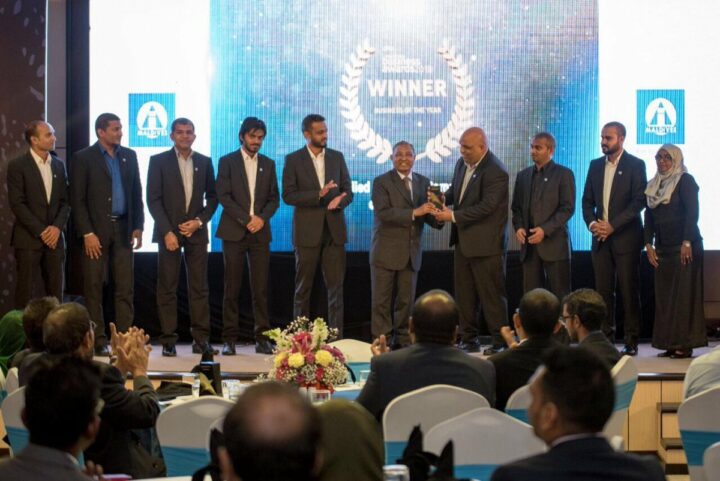 Maldivian Business Leaders Awarded
Maldives Business Awards has recognised and awarded businesses and leaders who have shown exceptional performance in their respective fields over the past year, naming Allied Insurance as the "Business of the Year 2018". 23 winners from across 25 categories were awarded at the 2018 Maldives Business Awards Gala Event held at Paradise Island Resort.
Organised by local PR firm – Blazon Inc., the awards saw a grand total of 185 applications across 25 categories. Out of those, 56 were selected as finalists and 23 were named winners following over 100 hours of judging. The judge's panel of Maldives Business Awards consisted of a total of nine judges spanning from different sections of the industry.
The awards were split into four segments; Industry Excellence, Enterprise Excellence, Individual Excellence and Elite Awards. The winners are;
Industry Excellence
Housing Development Finance Corporation (HDFC): Excellence in Finance (Banking & Finance)
Allied Insurance: Excellence in Finance (Insurance), and Business of the Year
Reveries Diving Village: Excellence in Hospitality (Hotels & Guesthouses)
Inner Maldives: Excellence Hospitality (Tour Operators)
Ensis Fisheries: Excellence in Fisheries & Agriculture
Malé Water & Sewerage Company (MWSC): Excellence in Utility and Allied Presents Employer of the Year
SASe Construction: Excellence in Construction & Real Estate
Atoll Market: Excellence in Wholesale & Retail
Ooredoo Maldives: Excellence in Information & Communication
Total Transport Solutions: Excellence in Transport & Logistics
Medica: Excellence in Healthcare
MHPA LLP: Excellence in Professional Services
Enterprise Excellence
Allied Insurance: Innovative Business of the Year
Dhiraagu: Public Enterprise of the Year
Ember Fire and Safety: MSME of the year
Ooredoo Maldives: FDI of the year
Malé Water & Sewerage Company (MWSC): Employer of the Year
Individual Excellence
Ali Haris: Young Entrepreneur of the Year
Raaidha Shafeeq: Business Woman of the Year
Abdul Majeed: Inspirational Leader of the Year
Mohamed Ali Janah: Entrepreneur of the Year
Elite Awards
Qasim Ibrahim: Lifetime Achievement Award
Allied Insurance: Business of the Year
Maldives Business Awards was first hosted in 2018 with the aim of distinguishing and applauding businesses that had shown extraordinary performances in their particular fields. For more information about the winners and the awards, visit businessawards.mv.
Editor's Note: Featured image courtesy of https://twitter.com/OoredooMaldives