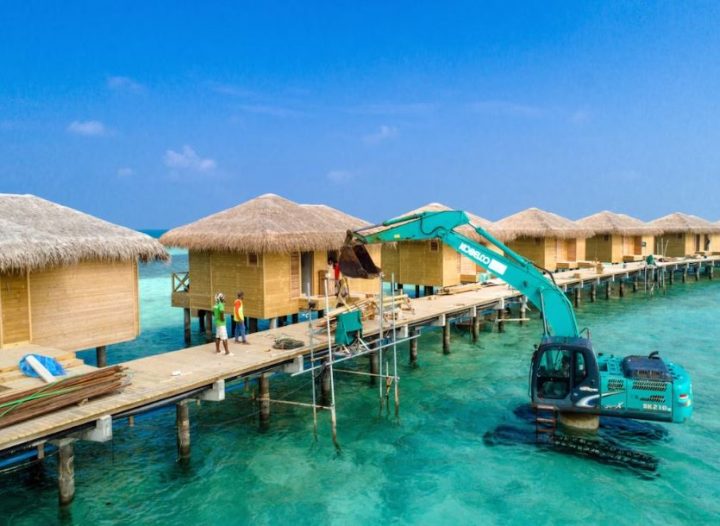 Maldives faces $1.7b annual economic loss from 88 unfinished resorts
The Maldivian tourism industry is grappling with a substantial setback as 88 resorts designated for development remain incomplete, resulting in an annual economic loss of $1.7 billion, as per the Finance Ministry's fiscal statement for 2024-26.
Maldives, heavily reliant on tourism, considers these unfinished resorts a linchpin of its economic prosperity. However, these 88 islands, initially earmarked for industry rejuvenation, have seen negligible progress, with many projects abandoned.
The Finance Ministry's report reveals the considerable opportunity cost borne by the government. The underdeveloped islands have not only reduced government revenue but also impeded job creation and broader economic advantages that fully operational resorts could deliver.
Key report highlights include:
88 Unfinished Resorts: Despite their intended tourism development, these 88 islands remain unused, severely impacting the Maldivian economy.
Lost Revenue: The government's earnings from these resorts have dwindled due to their incomplete status.
Stifled Job Creation: Stalled development has thwarted the creation of over 16,000 jobs meant for the local workforce.
Economic Dampening: The stagnant resorts have hindered potential benefits for other sectors like transportation, agriculture, and retail.
10,000 Bedrooms Awaiting Development: Once completed, these islands were set to add 10,000 tourism sector bedrooms, bolstering hospitality capacity.
$1.7 Billion Annual Economic Impact: Bringing these dormant resorts to life could recover $1.7 billion annually, offering substantial economic benefits and thousands of jobs for the nation's labor force.
In Summary:
Kaafu Atoll has the most resort projects with little or no progress (29 resorts).
Kaafu Atoll also has the largest number of resorts in the country (55 in operation).
The second largest number of stalled resort projects is in Gaafu Alifu Atoll (10 projects).
Laamu Atoll has 7 stalled projects, while Baa Atoll and Noonu Atoll each have 5 with limited progress.
In total, there are 173 resorts in the country.
In response, the government has initiated a preliminary assessment of these islands, with support from the International Finance Corporation. This assessment aims to pinpoint strategies and areas where assistance can expedite resort completion.
Many tourism experts believe the government may have leased more islands for development than necessary, leading to property devaluation and subsequent abandonment. Finding sustainable solutions to finish these resorts has become a top priority.
The Finance Ministry's report underscores the urgency of addressing this issue to restore economic vigour and unlock the untapped potential of these 88 undeveloped islands for the Maldives. The government's path forward and potential innovative strategies to reinvigorate these deserted islands are yet to be seen.
The photo is posted for illustration purposes only and may not necessarily depict the content described.