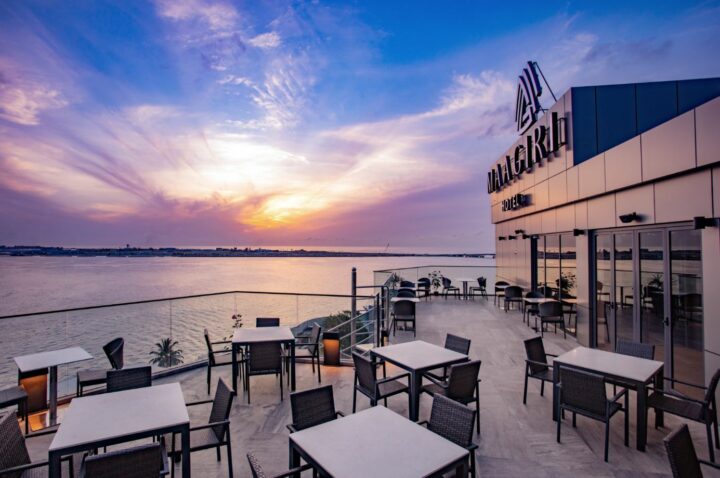 Maagiri Hotel – Jewel for Business Travellers
Maagiri Hotel, is a newly constructed city hotel situated at one of the most premier locations of Malé. It conveniently faced the Airport/Hulhumalé ferry terminal on Boduthakurufaanu Magu, granting easy access to the airport via land or sea. The modern Maagiri Hotel is set oceanfront with a spectacular view of the surrounding islands near Malé, an additional contribution to the main skyline of Malé City.
Maagiri Hotel was opened in April 2018, making it one of the youngest four-star city hotels in the capital of the Maldives. Located within walking distance from major international banks, government offices and prime private office buildings in the capital, this is an ideal stay for business travellers visiting the Maldives. With its contemporary design and overall ambience, the hotel makes it an impeccable stay for business travellers to unwind after an eventful day filled with appointments.
The name "Maagiri" has a historical link to Maldivian tourism. Back in the 1970's, the very first guesthouse in the Maldives, "Maagiri Lodge" was on the very same land plot where the hotel stands today. According to the General Manager, Ahmed Saeed, Maagiri Hotel was named in honour of the old property.
Rooms
With a total of 51 rooms, Maagiri Hotel features four different categories of rooms. 27 Premier rooms, 12 Premier Ocean View rooms, 6 Junior Suites and 6 Executive Suites spanning across 9 floors.
The Premier and Premier Ocean View rooms are designed on a minimum area of 22-24 square metres, providing ample room space which is an absolute luxury in Malé City. The Premier rooms come with the view of the busiest districts of Malé. The Premier Ocean View rooms are perfect to enjoy the ocean view overlooking the horizon. At night, you could catch a glimpse of the moving vehicles on the Hulhulé-Malé bridge and the lights of the surrounding islands and the moving marine vessels nearby.
Junior Suites are built on an area of 41 square metres, located at the eastern wing of the hotel. These suites come with a separate living room and bedroom overlooking the blue ocean.
The highest category of rooms is the Executive Suites, built on a total area of 50 square metres, ensuring the utmost luxury and comfort for its guests. These suites are designed with living space and a working station separate from the main bedroom area, both with the mesmerising ocean view.
With its warmly lit inviting rooms to carpeted corridors designed in light hues of grey, this modern beautiful hotel with its calm and quiet ambience is the perfect peaceful place just right for business travellers looking for an escape from the busy city.
Common room features include in-room safes, complimentary tea and espresso making facilities, complimentary water, mini bar, room service, free Wifi, IDD service, satellite TV and same-day laundry services. All rooms are equipped with king-size beds along with blissfully soft pillows and luxurious bed linens. Bathroom features include a rain shower, hand shower, bathroom scale, hairdryer along with bathroom amenities.
Dining Outlets
Maagiri Hotel comes with three different outlets providing excellent culinary experiences for guests staying at the hotel. These dining outlets are also opened for the public and some may require a reservation during busy hours.
Coffee Curve, a neatly tucked, fully air-conditioned small café right beside the lobby overlooking the busy street is designed specifically for coffee lovers who would like to grab a quick snack for takeaway. The café offers a mix of refreshing juices, iced teas and a light menu of sandwiches, burgers, wraps, pastries and sugary confections carefully selected to provide an energy boost for people rushing on a busy schedule.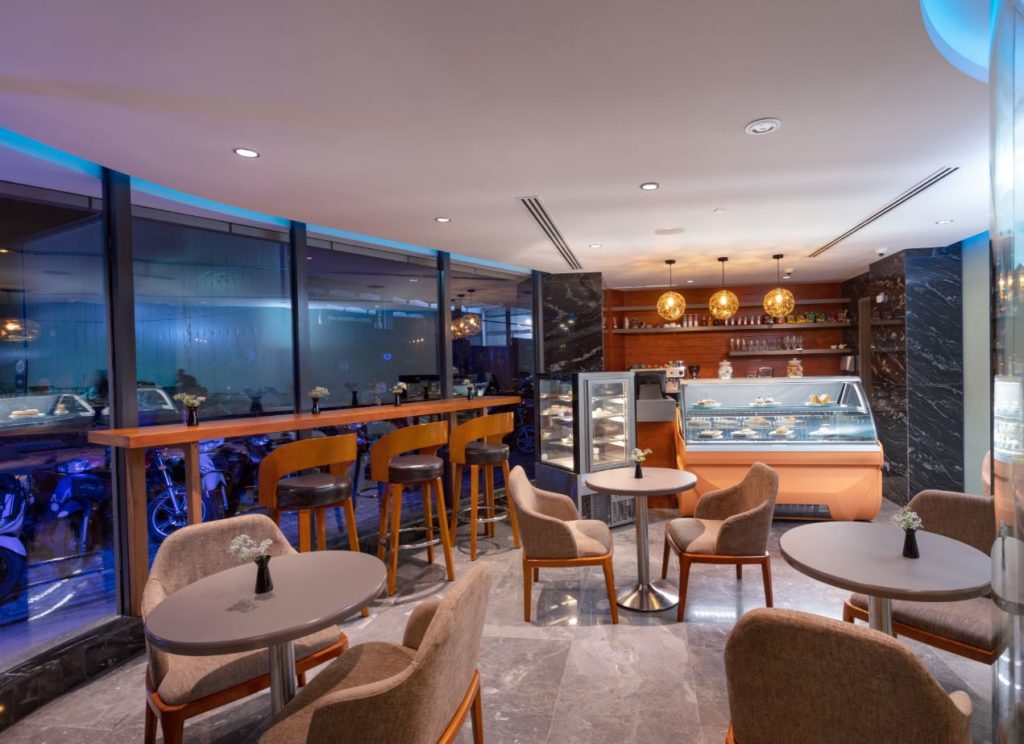 Faru, serves as the main restaurant of Maagiri Hotel. Breakfast, Lunch and Dinner are served here on a semi-fine dining style. The restaurant specialises in multi-cuisine dishes influenced by the West and Asia. From beautifully displayed buffets to a choice of à la carte menus, Faru is a place to have family breakfasts, business lunch meetings to intimate wedding receptions. With its refined decor and efficient services, the restaurant is an ideal space for gatherings.
Peak, is an enamouring escape. The casual dining outlet is somewhere you could relax along with a tastefully crafted mocktail whilst enjoying the warm shades of Maldivian sunsets. With two different levels of seating where the top is a complete open-air terrace. Peak specialises in authentic Indian cuisine, offering exquisite tastes for spice lovers, making it a frequent spot for friends, families and associates.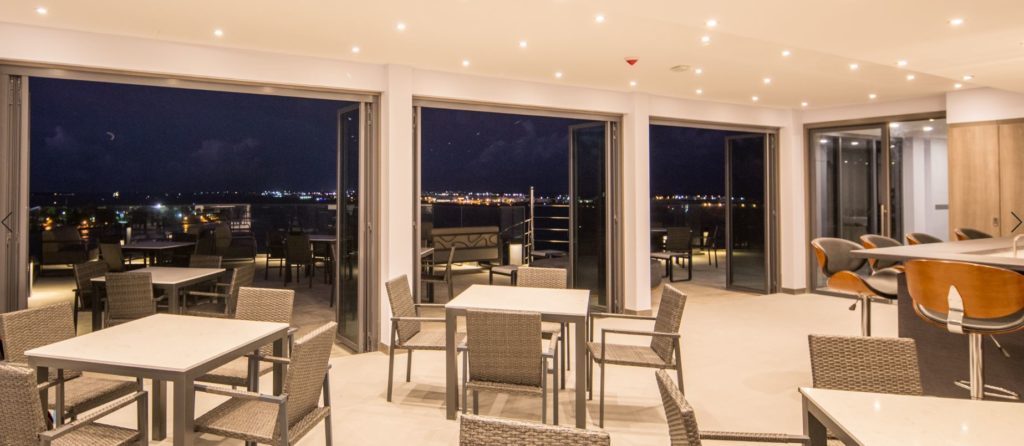 Hotel Facilities
Maagiri Hotel offers two meeting rooms and a conference hall specifically designed for its business clients. These modern-sleek designed rooms are fully equipped with 49-inch smart TV, IP phones, IDD services and high-speed internet. Free Wifi is also available throughout the public areas, restaurants and lobby, making it convenient to stay connected.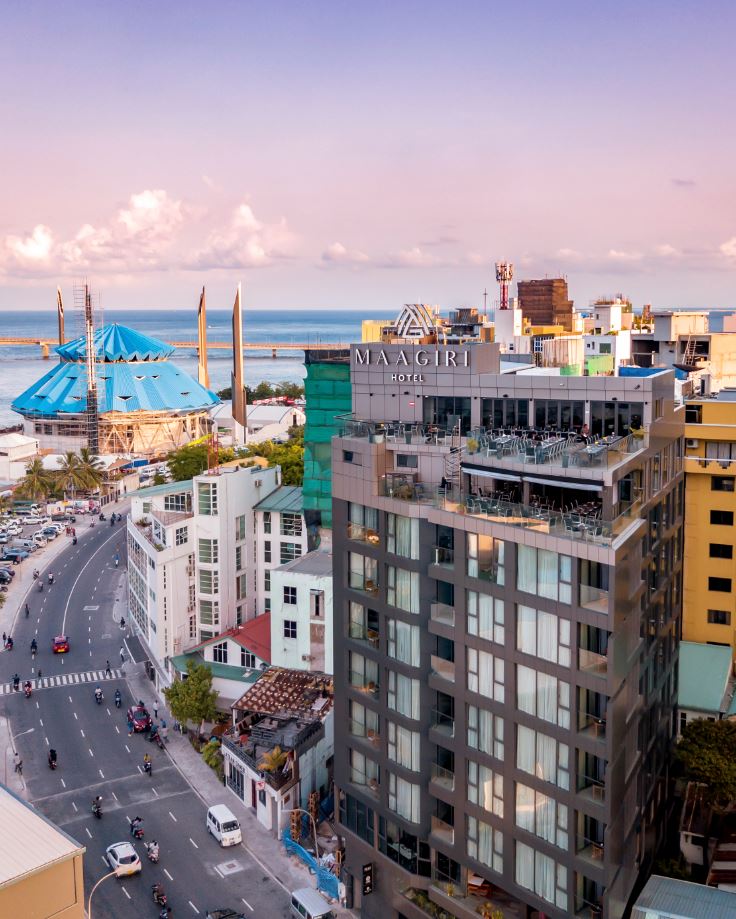 Maagiri Hotel offers an excellent space for events, special gatherings and celebrations. From weddings to romantic candle-lit dinners on the rooftop, the hotel provides special packages and arrangements to customers looking forward to a joyous occasion with complete and efficient services for a hassle-free celebration.
Another interesting facility is its fully-equipped gym located on the 9th floor. The gym comes with high-quality cardio machines and weights to cater for a full-body workout for travellers who must complete their daily exercise routines. With its beautiful ocean view, the gym is an ideal place to focus on your inner self during a sunrise or sunset workout session.
With an experienced team made up of over 20 different nationalities behind the operations of this hotel, they are fully dedicated to ensuring that they provide the best and most comfortable services to the guests staying with them. Being a city hotel mostly serving business travellers, the hotel has already begun getting its fair share of repeaters arriving within this year. Maagiri Hotel truly makes its guests feel at "home."