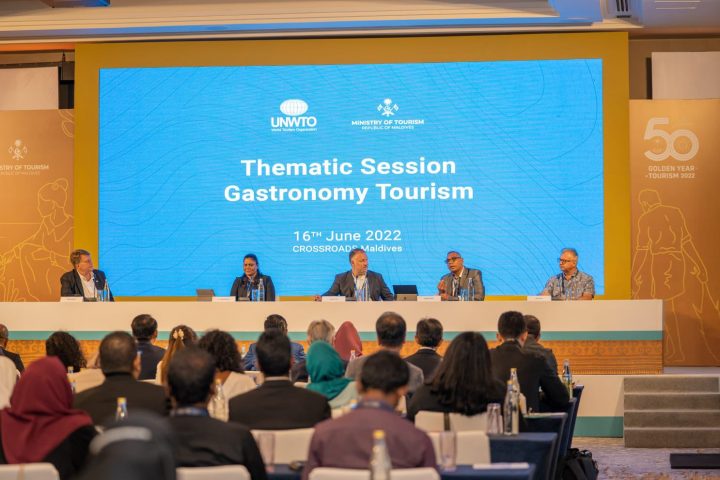 Maldives' Gastronomy Tourism Discussed at UNWTO Summit
Representatives from nineteen UNWTO member states, affiliate members as well as those from international and regional organisations, gathered in the Maldives last week to participate in the UNWTO Global Summit on Community based Tourism. The events were organised in collaboration with the Maldives government as part of golden jubilee celebrations to mark the 50th anniversary of tourism in the country and fittingly looked at ways the tourism industry could diversify from the traditional sun, sea and sand concept.
"The theme for this summit aligns with the government's efforts on diversification and linking tourism and its benefits to local island communities," said Tourism Minister Dr Abdulla Mausoom.
"For many millions of people across Asia and the Pacific, tourism is an essential lifeline. Its return is vital and must be based around the pillars of inclusion and sustainability, for the benefit of all," said UNWTO Secretary-General Zurab Pololikashvili in his speech at the opening of the Joint Commission meeting.
The third day, June 16th, saw three thematic sessions, where public and private sector experts focused on the potential of gastronomy tourism, agro-tourism and community-based tourism for sustainable and inclusive development both here in the Maldives and in other Asia Pacific countries.
The Gastronomy thematic session was held at Crossroads, Mr Assad Riza Deputy Minister of Tourism gave the opening remarks for the Gastronomy thematic session, paving the way for an inspirational morning which began with two engaging Keynote speakers.
Mrs Mariyam Noordeen, President Chefs Guild of Maldives (CGM) who focused on Enhancing the Tourism Experience through Gastronomy and Dr HJ Mohamed Abdullah of University Technology MARA, Malaysia who looked at Redefining Malaysian Food as a source of Gastronomic Tourism.
The presentations of both highlighted the potential impact local cuisine could have on the more modern tourism, where sustainability is a core driving force. Gastronomic tourism is a subcategory of cultural tourism, food is an intrinsic part of travel and can be used to entice people to visit certain countries or regions. Gastronomic tourism can be defined as "a journey in regions rich in gastronomic resources that generate recreational experiences or have entertainment purposes which includes visits to primary and secondary producers of gastronomic products, gastronomic festivals, fairs, events, cooking demonstrations, food tasting events, or any event related to food" (Lee, Packer & Scott 2015).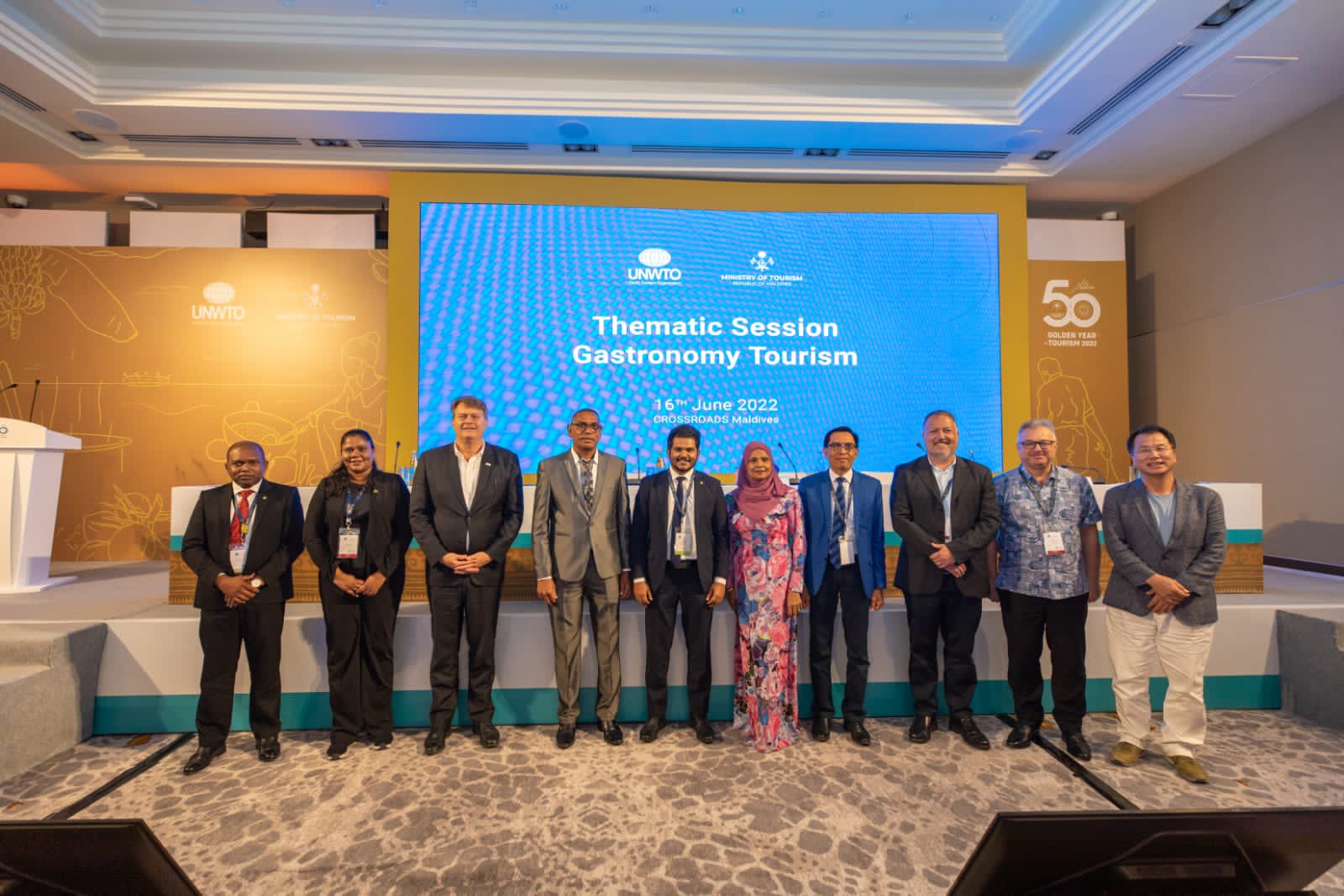 The gastronomic journey refers to the complete cultural cycle of the food, from how it is grown, harvested and processed, to the dishes it creates, the stories, customs and traditions behind them, to how they are served and eaten. All can be curated into an unforgettable tourism experience giving a unique insight into traditional cultural aspects of life.
Mariyam Noordeen highlighted that Maldivian cuisine is a unique fusion of flavours created over the centuries by influences from around the Indian ocean such as Sri Lanka, India, Arabia and Africa which evolved through the stream of seafarers moving up and down the trade routes passing through the Maldives to reach other parts of the world.
Whilst fish and coconut are the essentials to Maldivian cuisine, rice is also a key component which is imported. These three mainstays of the Maldivian diet are then mixed with a variety of natural local ingredients, some of which are endemic to certain atolls, giving distinctive features to dishes from North to South.
Both presentations were well received by the audience which included members from CGM, lecturers and students from the Faculty of Hospitality and Tourism, other educational establishments and culinary professionals.
The sessions proved thought provoking which created a lively panel discussion chaired by Mr Peter Semone, UNWTO Consultant and consisting of Dr Zakiyya Moosa, Dean, Centre for Research and Innovations, Avid College, Mr Chris Seek, USAID Project Tourism Advisor, Chef Sobah from Soneva Fushi and Mr Alex Rainer, Director Government and Destinations Relations, Amadeus.
Mr Alex Rainer, highlighted the fact that the Maldives does not have a defined National Dish, a point which sparked animated debate on what potential contenders could be, and concluded that the need to identify and decide upon a national dish was a key first step.
Another aspect discussed was the lack of a structured platform for the traditional cooking methods, flavours and recipes to be taught to the youth of today. It was acknowledged that although some cookbooks exist, each atoll has their own unique ingredients and dishes which risk being lost if they are not preserved, documented and past on. Even though there are lots of Maldivian chefs, they do not necessarily know how to cook traditional Maldivian dishes as it is not always taught, something that those present agreed should be addressed.
The session concluded with an overwhelming recognition of how local food could play a significant part in creating a unique gastronomic tourism experience provided that government bodies, educational, agricultural and tourist stakeholders came together to form a well-defined, safe, and structured way forward.
Images by Ministry of Tourism Maldives