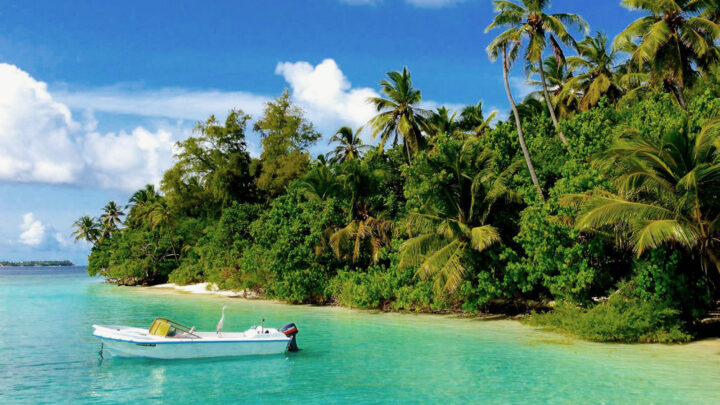 The rising tide of guesthouse tourism in the Maldives
From humble beginnings more than six years ago, the midmarket tourism industry in the Maldives has grown exponentially. The first guesthouses opened in 2010 on the island of Maafushi near the capital. As of May, 347 guesthouses were operating across the country with a combined bed capacity of more than 5,000.
The burgeoning guesthouse industry opened up the country for backpackers and budget travelers for the first time. The Maldives is globally renowned as a high-end destination with exclusive upmarket resorts. However, guesthouses offered tourists a low-cost option to enjoy the sun, sand, and sea.
Guesthouses have also had a transformative effect on inhabited islands, hitherto inaccessible to the thousands of tourists who flock to the Maldives each year. Local tourism created jobs for youth who previously had to travel to the capital or live in resorts.
The benefits of local tourism have not been limited to guesthouse owners and their employees. On many islands, subsidiary businesses have sprung up to offer complimentary services for tourists, such as diving, water sports, restaurants, souvenir sales, and arts and craft. Maafushi, the island known as the forerunner in introducing guesthouse tourism, is famous for full employment. Housewives and young women on the island offer services ranging from laundry to babysitting.
The success of local tourism has been attributed to the locals' acceptance of foreigners from all corners of the world and sharing the Maldivian culture and lifestyle.
"There is no doubt that the guesthouse industry will continue to grow which in turn benefits local communities economically. For Secret Paradise our objective remains to keep cultural and responsible tourism awareness at the forefront of our local island tours and provide guests unique cultural experiences. We feel strongly that local tourism needs to be carefully monitored and nurtured otherwise there is a risk that the identity of local island communities will be lost," said Ruth Franklin, Director of Sales at Secret Paradise, a travel agency specializing in local tourism, established in 2012.
Hotelier Maldives has compiled the following list of popular guesthouses close to Male' based on reviews and ratings on TripAdvisor.
Boutique Beach All-inclusive Diving Hotel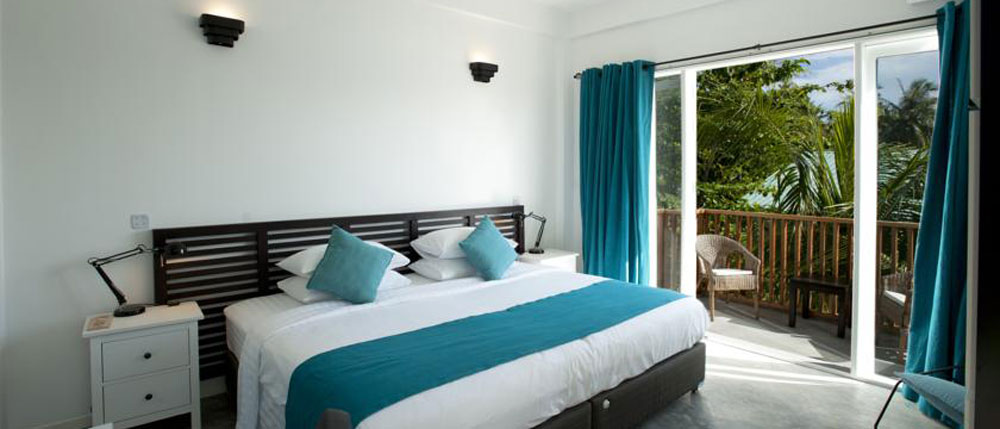 Dhigu Rah, South Ari atoll
TripAdvisor Certificate of Excellence
Boutique Beach is a luxury, contemporary diving hotel located in Dhigurah in South Ari Atoll. Dhigurah is in the famous whale shark area in South Ari Atoll. The guesthouse is located just 2 minutes away from the beach.
Located in a marine protected area, whale sharks and manta rays can be spotted year-round. The famous Kudarah Thila is just 10 minutes away from the island. The British Whale Shark conservation group, who are also based in Dhigurah, have recorded 267 whale sharks in the area. Manta rays regularly feed in the lagoon as well as the famous cleaning station at Rangali , within easy reach. There are 15 deep reefs or Thilas in between Dhigurah and the next island.
Accommodation: 6 spacious boutique style double rooms with balcony, open air shower, camera workstation.
Meal Plan: All inclusive (breakfast, lunch, dinner and soft drinks) plus diving package (up to 3 dives each day)
Meals are served at the main restaurant. Special dinners can be arranged at the rooftop restaurant
The guesthouse also offers other activities such as:
Own Diving center with Nitrox and PADI dive team
A range of excursions are available
A projector and screen in the communal lounge area where divers can show what they have filmed each day.
Ariston Dhangethi Inn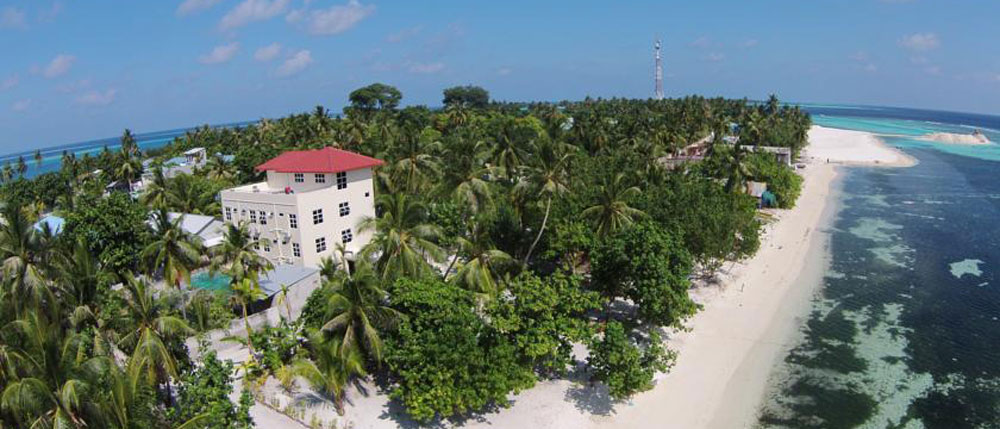 Dhangethi, South Ari atoll
TripAdvisor Certificate of Excellence
Located just steps away from the beach, Ariston Dhangethi Inn is a small private hotel distinctly designed for travellers seeking to enjoy the natural bounties of Maldives at affordable rates. It is a beach front inn, strategically located at the heart of South Ari atoll's diving hotspots. The inn offers its own dive centre.  With access to over 40 dive sites in the area, South Ari atoll offers some of the best dive sites in the country.
The island can be reached in 25 minutes by seaplane, 20 minutes by a domestic flight to Maamigili airport in South Ari atoll, followed by a 20-minute speed boat ride.  Alternatively, the island can be reached by a 6- hour ride by local ferry, 2 and half hours by speedboat (3 stops).
The journey by speed boat is like a day cruise inside south Ari atoll, flying fish and dolphins can be spotted on the way.
Accommodation: 13 air conditioned Beach View and Deluxe rooms with attached bathrooms with water heaters and rain showers. All rooms provide TV , mini fridge, safe and free Wi-Fi.
Meal Plan: All Inclusive (Breakfast, lunch and dinner)
Freshly prepared local specialties, Asian and continental dishes.
Beach Heaven Maldives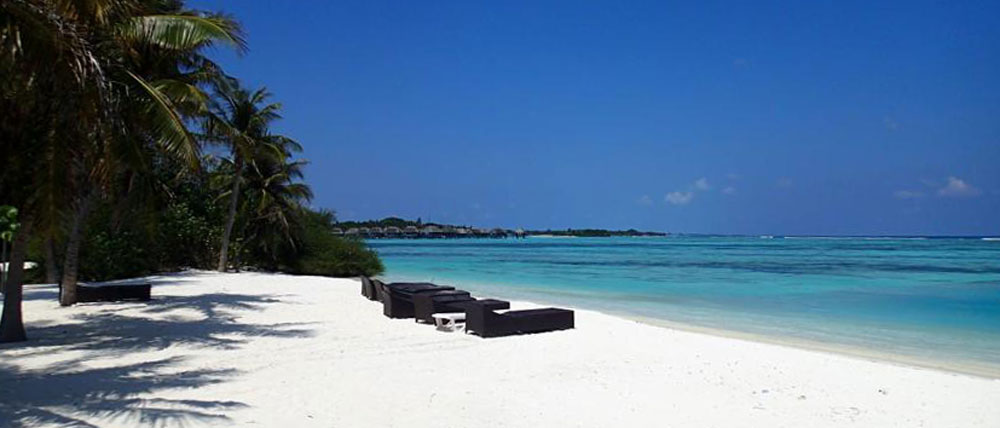 Huraa, Kaafu atoll
TripAdvisor Traveler's Choice 2016
Beach Heaven Maldives is located in Huraa island, and can be reached in one and half hours by local ferry (available Sat-Thurs), and 30 minutes by Speedboat. Speedboat transfers are available, and can be arranged upon request.
Beach Heaven Maldives is a small budget hotel with 15 rooms in 4 local houses located side by side near the beach (local). The island's Bikini Beach is 5 minutes away from the guest house.
Accommodation: Double rooms with attached bathrooms, air conditioning and ceiling fans
Meal Plan: Full Board (breakfast, lunch, dinner, bottled water, coffee and tea).
Specialties include, traditional Maldivian dishes, fresh tropical fruits, grilled seafood and barbeque.
Activities: Snorkeling, fishing trips, night fishing, dolphin and turtle watching, excursions to picnic islands, seaplane tours, water sports and surfing at some of the world's best spots: Sultan's, Honkey's, Pasta Point, Jailbreaks, Ninjas, Lhohi's.
Tropic Tree Maldives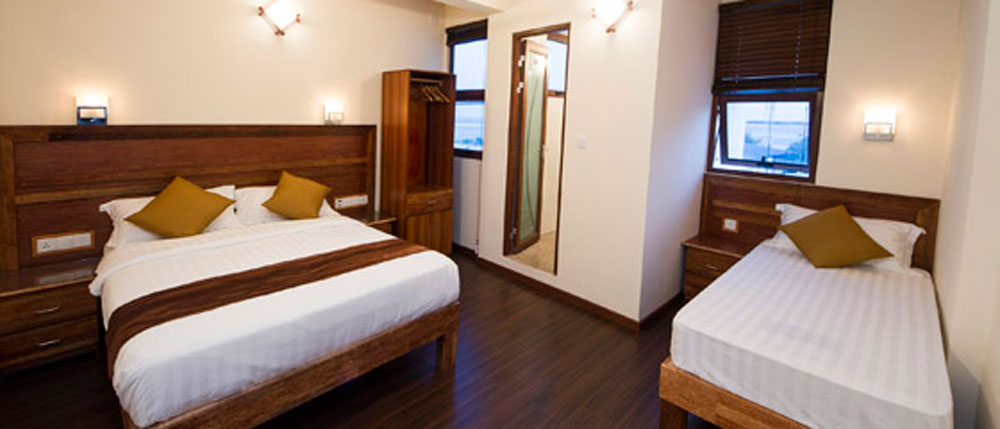 Gulhi, South Male' atoll
TripAdvisor Certificate of Excellence
Tropic Tree Hotel Maldives is an affordable charming hotel located in the island of Gulhi Maldives. The hotel with 10 double rooms and one suite is just 21km away from the Ibrahim Nasir International Airport, Maldives.
The hotel offers 10 rooms in three categories: Standard, Deluxe Double and Deluxe Triple rooms as well as a Tropic Tree suite.
At Tropic Tree Hotel, the rooms are tastefully decorated with a local touch. All accommodations have on-suite bathrooms with fresh hot and cold water, mini bar, room safe, and Wi-Fi.
The rooms are designed, with cross ventilation and double glassed windows to achieve energy efficiency, and are air-conditioned and fitted with fans.
The Tropic Tree Suite has an en suite bathroom with its own bathtub, with fresh hot and cold water.
Meal Plan: Bed and Breakfast (daily continental breakfast with a Maldivian touch). Pre-booking is required for lunch and dinner.
Tropic Tree Hotel Maldives offers two restaurants for its guests; a garden restaurant and a roof-top restaurant.
The ground floor garden restaurant serves the main meals and breakfast for the guests.
Early bookings are required for dining at the open-air terrace restaurant. The perfect location for special occasions, the restaurant offers local cuisine as well as international delights.
Fresh juices and soft drinks are available at the hotel. The hotel can also arrange special dinning cruises where guests can enjoy meals with alcoholic beverages.
Activities: Dolphin watching excursions, diving, snorkeling and surfing
Crystal Sands Guest House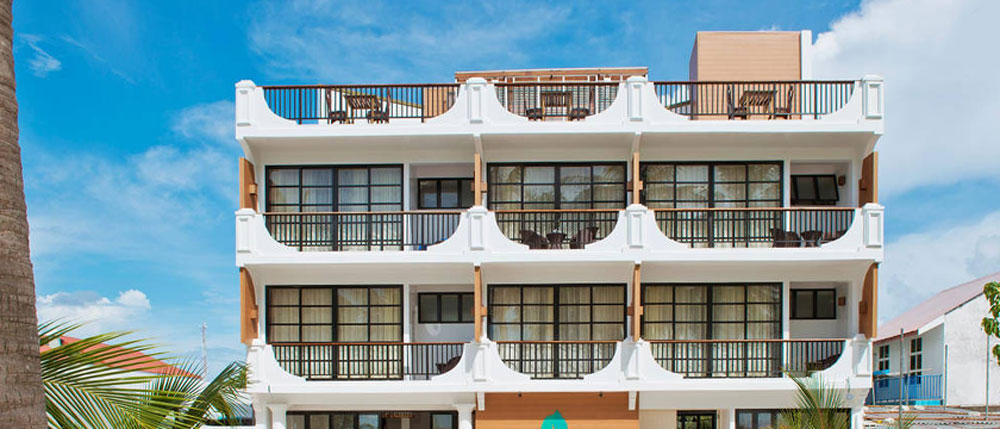 Located in Maafushi, Crystal Sands offers nothing short of a beautiful, relaxing holiday.
Crystal Sands offers three categories of rooms for their guests – the Ocean Delux, Beach Deluxe and Standard Rooms – with the finest culinary indulgences, coming straight from the longest standing food and beverage outlet in the country, Symphony.
They offer a wide range of activities for their guests including:
Big game fishing
Night snorkeling
Local island visits
Sunset/Dolphin cruising
Day trips to resorts
It takes an hour and a half to arrive at the island by local ferry, and only 30 minutes by speedboat. The guest house is located right in front of the beach.
Cokes Beach House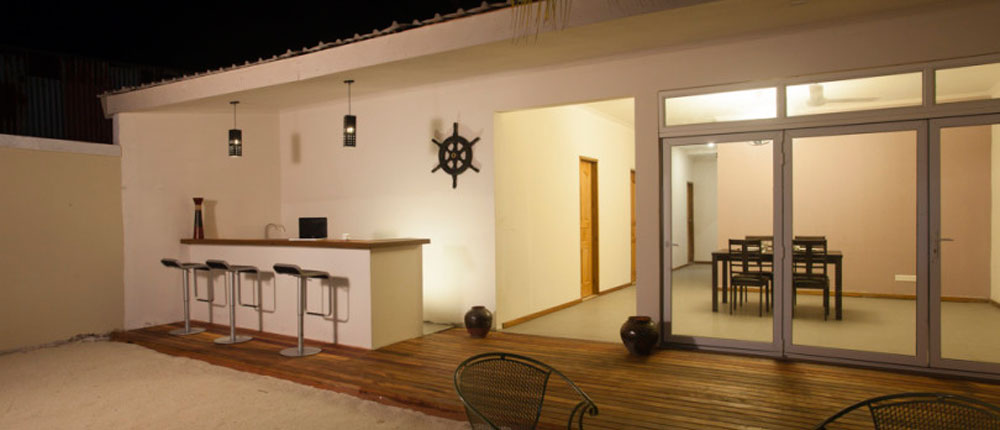 Thulusdhoo, Kaafu atoll
Cokes Beach House is located in the island of Thulusdhoo, in Kaafu atoll. Approximately two hours by ferry, the guest house is named after the famous surf break, Cokes near the island.
The cozy village-like setting of this guesthouse offers guests four exclusive private rooms, with personalised services. The guesthouse also offers convenient check-in and check-out times depending on guests airport transfers.
Services Cokes Beach House offer include:
Beach front dinners for special occasions ( on request)
Coffee and smoothie bar
Built approximately 40 steps away from the ocean, the guesthouse provides easy access to the ocean, the aforementioned surf break, Cokes. Other activities they offer include:
Free Snorkelling (lessons included)
Surf trips to other surf breaks nearby the island ( boat hire available)
Day/Night fishing ( option to join local fishermen during the day for the famous yellow fin tuna)
Island hopping
Vaali Beach Lodge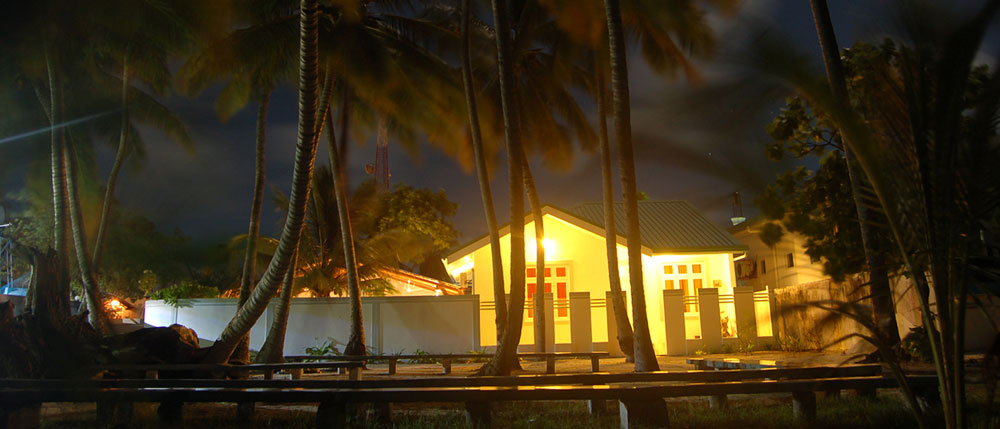 Felidhoo, Vaavu atoll
The guesthouse is located in Vaavu atoll, Felidhoo Island. The capital of Vaavu atoll, Felidhoo is one of the least populated islands in the Maldivian archipelago.
Vaali Beach Lodge is located right in front of the beach, giving guests an unobstructed view of the endless deep blue seas.
The guesthouse also offers a wide range of activities from
diving with PADI certified instructors,
snorkeling the breathtaking lagoons to more relaxing activities such as
dolphin watching, sunset cruising and
private picnics on sandbanks.
Guests are also invited to locals homes to experience the traditional lifestyles, food, cooking of Maldivians. The island is a welcoming, beautiful home to a few hundred locals.
Lily Rest Maafushi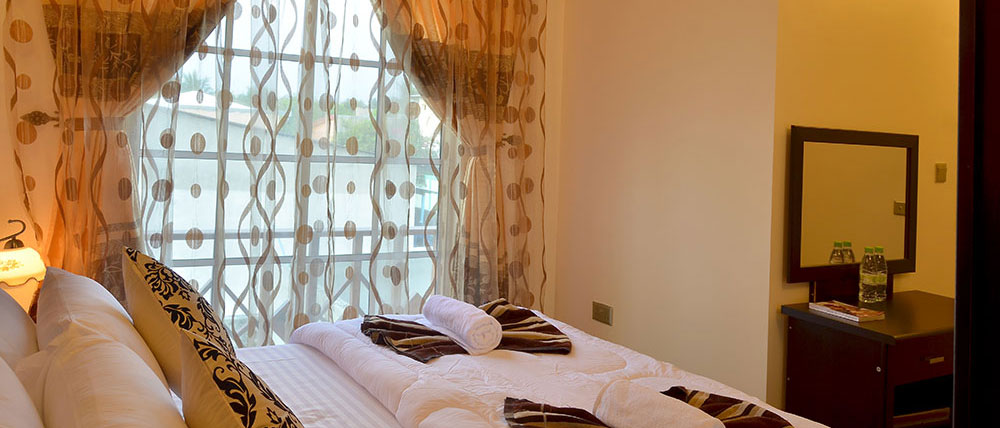 Maafushi, South Male' atoll
Lily Rest Maldives is located in the beautiful island of Maafushi. The guesthouse houses 8 luxury guest rooms, and their own restaurant. Maafushi is approximately 2 hours from the capital island by ferry.
They offer exciting activities such as:
Resort excursions/day trips
Diving
Sand bank picnics
Multiple water sports
Aveyla Manta Village
Dharavandhoo, Baa atoll
Located in Baa atoll, the middle of the only UNESCO biosphere reserve in the country, Aveyla Manta Village offers their guests a stay where 'comfortable luxury meets village charm.
As the name of the guest house suggests, they offer spectacular marine encounters which includes swimming with the gentle giants (manta rays) who travel around the area in vast numbers. Aveyla Manta Village is a favorite amongst divers and snorkelers.
The guesthouse also offers other activities such as:
Hanifaru Bay snorkeling excursion where hundreds of manta rays are seen at a time feeding on the planktons.
Dolphin sunset cruise
Snorkelling safari to breathtakingly beautiful spots around the island of Baa Dharavandhoo.
Big game fishing
Robinson Crusoe Experience offers guests the chance to spend the day alone on a sandbank, relaxing, sunbathing, and snorkeling the reefs.
These are a few activities the guesthouse list. Aveyla Manta Village also offers guests a range of dining options, including a romantic dining under the stars, private dining, evening barbeque, etc
Located on the island of Dharavandhoo, Baa atoll, getting there is easy as the island has small domestic airport.
Shadow Palm Hotel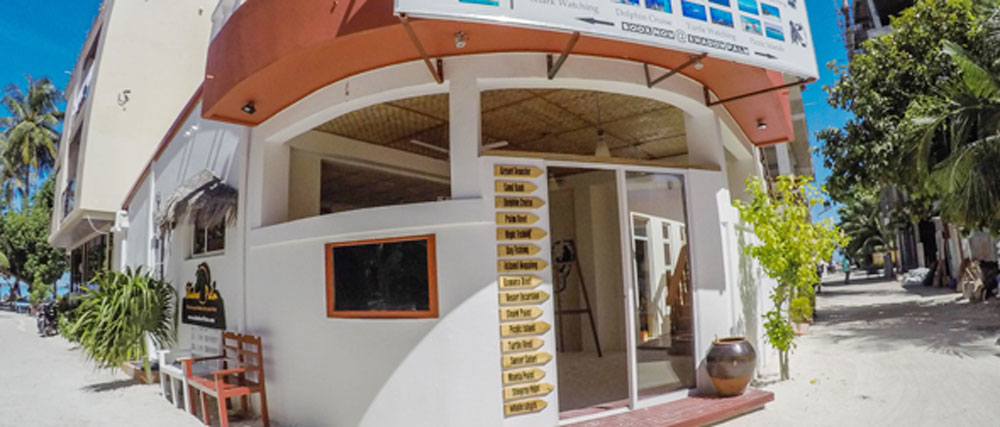 Maafushi Island, South Male' atoll
TripAdvisor Traveler's Choice
Located in Maafushi Island, in South Male' atoll, Shadow Palm hotel offers a calm and relaxing stay at an affordable rate.
The guest house offers comfortable rooms in three categories; Deluxe Double, Deluxe Twin and Deluxe family rooms with attached bathrooms with hot water. The hotel also offers complimentary breakfast.
Activities include snorkeling (half-day and full-day packages, excursions to nearby resorts, water sports, trips to picnic islands, day and night fishing.
Save
Save