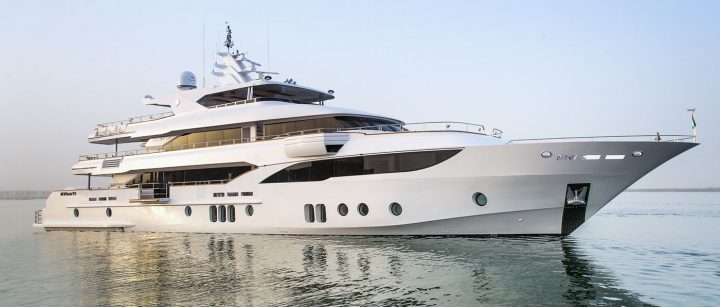 Maldives Looks to Luxury Cruising to Bolster Country's Thriving Tourism Market
Maldivian tour operators are set to benefit from a growing demand from affluent millennial vacationers for luxury cruising experiences, thanks to the increased availability of domestically produced leisure craft, according to the country's leading yacht and boat manufacturer, Gulf Craft.
Until now, most boats in the Maldives have been used to transport people from one part of the Indian Ocean nation to another, however Gulf Craft CEO, Erwin Bamps, says this trend is rapidly changing, with private operators looking to introduce luxury cruising to enhance the holidaymaking experience for visitors.
And with figures from the World Travel and Tourism Council showing that travel and tourism contributes to more than half (52%) of Maldives' overall GDP, Bamps says the prospect of enabling visitors to explore the country's exotic coastlines from the water will be of particular interest to the country's thriving hospitality sector, as the industry continuously strives to expand its experiential offering.
"The Maldives is host to a booming high-end millennial tourist demographic that is constantly looking for new and exciting ways to spend time on the islands, and offering guests the opportunity to enjoy the country's vast seascapes from the comfort of a luxury yacht would be the perfect way to help visitors create lasting memories," says Bamps.
"We see an emerging demand for bigger boats – over 45 feet in length – across the country, and we are investing in our local operations, in terms of both infrastructure and skill-set, to support this growing demand for larger and more luxurious leisure craft."
According to world travel publisher, Lonely Planet, the average daily spending in the Maldives, including hotel stay, can easily reach more than USD $850 per day. This makes chartering luxury craft a rather regular occurrence for holidaying visitors to the Maldives, says Bamps.
Gulf Craft has been a major contributor of Maldives' transport infrastructure, and accounts for more than 80% of the country's boats, most of which consist of the builder's Touring passenger boats. In addition to its locally-based manufacturing facility, the company also operates a dedicated marine services center, ensuring around-the-clock access to support.
The shipyard was recently recognized at the 2016 Maldives Boating Awards for its achievements in three categories: Dock Yard or Slipway of the Year, Best Boat Design of the Year for the Touring 38, and Best Production Fiber Vessel (5-24 meters), also for the Touring 38. The awards are granted to candidates that have demonstrated excellence in both craftsmanship and service.
As part of its commitment to passenger safety, the pioneering builder also recently announced its partnership with Ooredoo for the deployment of the GPS-based tracking solution, Ooredoo Locate, on all of Gulf Craft passenger boats. The advanced and cost-effective technology enables owners to keep track of a craft's location and status via a dedicated mobile app or web-based portal.
Distinguished for its capacity to deliver reliable and seaworthy craft through continuous innovation in design and technology, Gulf Craft has provided the Maldives with more than 1,000 boats during its 15 years of operations in the country.