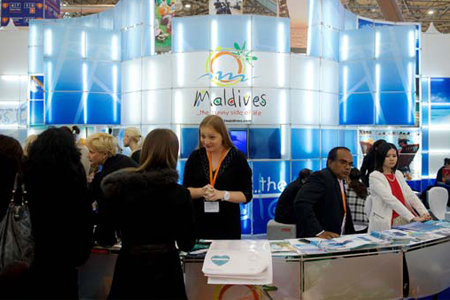 Maldives participates in Moscow International Trade and Tourism exhibition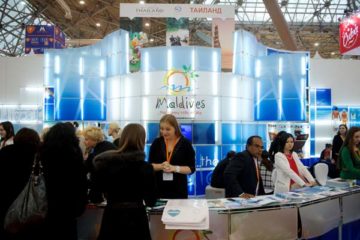 The Maldives is participating in the annual Moscow International Trade and Tourism (MITT) 2015 exhibition.
According to the Maldives Marketing and Public Relations Corporation (MMPRC), the Maldives delegation consists of 23 companies and 40 representatives from the tourism industry.
MMPRC Deputy Managing Director Mohamed Adam led the delegation at the 23rd edition of MITT, which kicked off on March 18.
"During the four days of the exhibition, the Maldives delegation will meet the travel industry professionals and discuss on potential future collaborations to promote the Maldives in Russia and Eastern Europe," MMPRC said.
"Maldives also organises a media event with the key lifestyle journalists which is scheduled to take place . MITT is the major event that Maldives participates in the region to attract tourists and investors into the country."
The Maldives' 147 square metre stand at MITT has a new look this year, MMPRC noted, with a contemporary design reflecting the country's "unique tourism product."
"During the public days, 20th – 21st March, Maldivian music by a 4 piece band will be performing in the Maldives stand," MMPR said.
"Maldives stand is located in the Forum Pavilion (no.F350), with destinations from Africa, Australasia, Asia, the Middle East and the Americas."
Since its inception in 1994, MITT has become one of the top five trade and travel events in the world. This year's exhibition featured 2,056 exhibitors from 198 countries.
MMPRC noted that Russia is one of the top source markets for tourists to the Maldives. In 2014, a total of 66,308 Russian tourists visited the Maldives, representing a 5.5% market share.
While arrivals have declined sharply in recent months, MMPRC expects the Russian market to bounce back once the country's economy recovers.