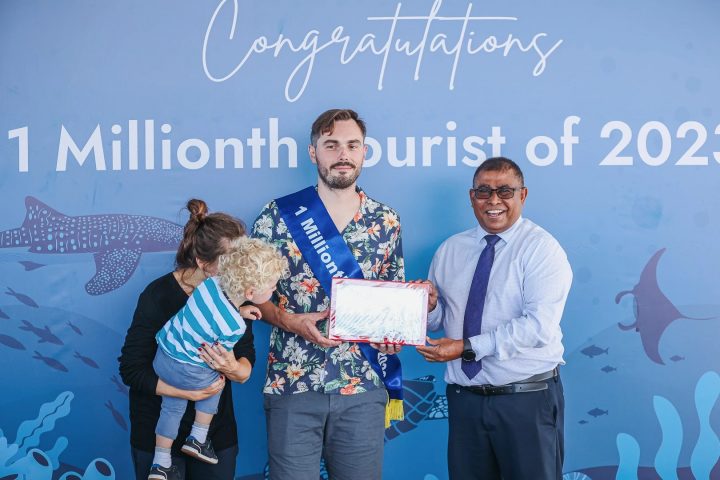 Maldives sets ambitious target of 3m annual tourists by 2028
In a bid to bolster the Maldives' tourism industry, President Ibrahim Mohamed Solih has unveiled a target of attracting 3 million tourists annually to the island nation by 2028. The announcement was made during a meeting held at Hoarafushi island as part of his presidential campaign.
Addressing the attendees, President Solih acknowledged the challenges posed by the Covid-19 pandemic and how some individuals had questioned the viability of tourism in the country during such trying times. Some political leaders even suggested diverting resources from tourism to other sectors like agriculture and fishing by-products, he said.
However, the president firmly emphasised that the Maldives' success during the pandemic was attributed to the crucial measures implemented by the government. He further revealed that the country is on track to welcome an estimated 1.9 million tourists this year.
"Our progress today is a result of the decisive actions taken during that critical period. By 2028, we aim to surpass the milestone of 3 million tourists visiting the Maldives," President Solih said.
He further elaborated that this targeted growth in the tourism industry is integral to the broader economic plan aimed at doubling the nation's economy. The president also highlighted the ongoing development of key airports like Velana International Airport, Hanimaadhoo International Airport, and Addu Gan International Airport, all part of a comprehensive long-term plan and vision.
The president's announcement comes a few days after the Maldives welcome its one millionth tourist of the year.
With its pristine beaches, azure waters, and luxury resorts, the Maldives has long been a favoured destination for travellers seeking idyllic getaways. However, the Covid-19 pandemic dealt a severe blow to the global tourism industry, and the Maldives was no exception. Despite the challenges faced during the pandemic, the country's resilience and swift response have helped it rebound and reinstate its allure to international tourists.