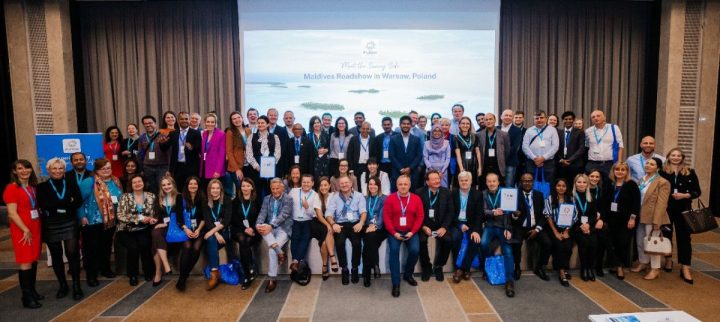 Maldives showcased in Eastern Europe with 3-city roadshow
The Maldives Marketing and Public Relations Corporation (MMPRC/Visit Maldives) has embarked on a journey through Eastern Europe with a dynamic roadshow spanning three vibrant cities; Warsaw, Prague and Budapest.
The Maldives Roadshow series in Eastern Europe is geared towards strengthening trade relationships, sharing the latest destination information, and establishing a prominent presence in this key region. Held on 13th, 15th, and 17th of November 2023, this event will be joined by 21 industry partners from the Maldives. This is the first time that MMPRC has conducted such a roadshow series in this region, as Eastern Europe became significant as a market following the pandemic.
Throughout this event, MMPRC aimed to create meaningful interactions and partnerships while showcasing the unique offerings of the Maldives for Eastern European tourists, through valuable travel trade meetings. MMPRC disbursed a wide array of promotional materials showcasing individual products and experiences such as liveaboards, diving, luxury resorts, guesthouses, and family holidays. Furthermore, the roadshow immersed attendees in the Maldivian culture with a Local Snacks and Culture Display to provide a genuine taste of the exquisite destination and leave a lasting impression on the guests.
Attendees had the chance to participate in a Holiday Raffle Giveaway, with the exciting opportunity to win free holiday packages. These include vacations sponsored by the Holiday Inn Kandooma Resort Maldives in all three cities, as well as from Lily Beach Resort & Spa in Prague, and the Seaside Finolhu Baa Atoll Maldives in Warsaw and Prague. The Le Meridien Maldives Resort & Spa was also part of this enticing giveaway across all three cities.
MMPRC conducts various B2B activities in this region to strengthen the trade relations, focusing on individual products and experiences, ranging from liveaboards and diving to luxury resorts and family holidays. This includes a successful completion of two editions of Access Luxury Travel Show (ALTS) in Prague and Warsaw and three airports in Budapest, engaging with key markets and strengthening ties with the travel trade.