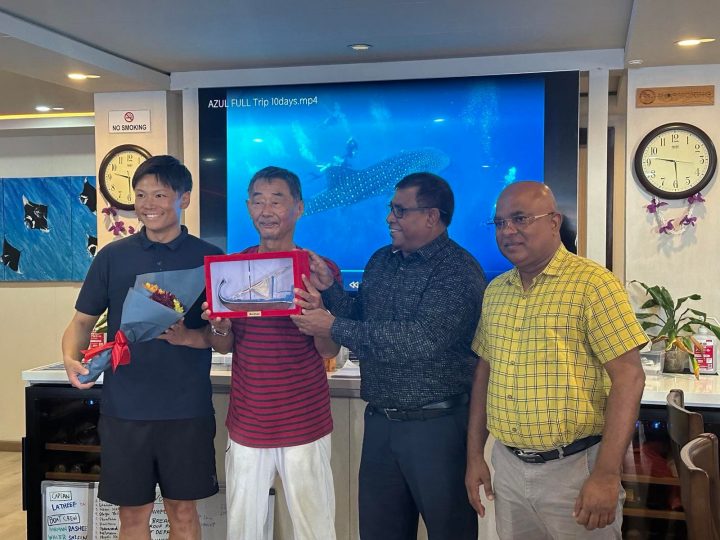 Maldives welcomes 103-time repeater tourist
Dr Abdulla Mausoom, the Minister of Tourism, extended a warm welcome to a dedicated tourist who has visited the Maldives a remarkable 103 times. Naito Takashi from Japan arrived in the Maldives for his 103rd visit on Sunday, embarking on a holiday adventure with the Safari Blue on the Fun Azul Fleet.
In a special ceremony held on board the liveaboard vessel, tourism minister and esteemed industry figures gathered to greet Naito Takashi and celebrate his unique achievement.
Takashi's relationship with the Maldives spans over 24 years, during which he has frequented the destination with consistent enthusiasm, making 3 to 5 visits each year. This impressive devotion has earned him the distinction of being one of the most frequent visitors to the Maldives.
The latest statistics released by the tourism ministry highlight the ongoing allure of the Maldives as a favoured destination. As of August 7, the nation has welcomed a total of 1.11 million tourists in the current year, underlining its continued popularity on the global tourism map.
The top three source markets for tourist arrivals in 2023 remain consistent:
Russia – 131,987 tourists
India – 124,802 tourists
China – 100,105 tourists
Takashi's remarkable commitment to experiencing the Maldives resonates with the nation's reputation for providing unforgettable travel experiences. His repeated visits stand as a testament to the enduring charm of the Maldives, drawing travelers back to its pristine beaches, turquoise waters, and warm hospitality.