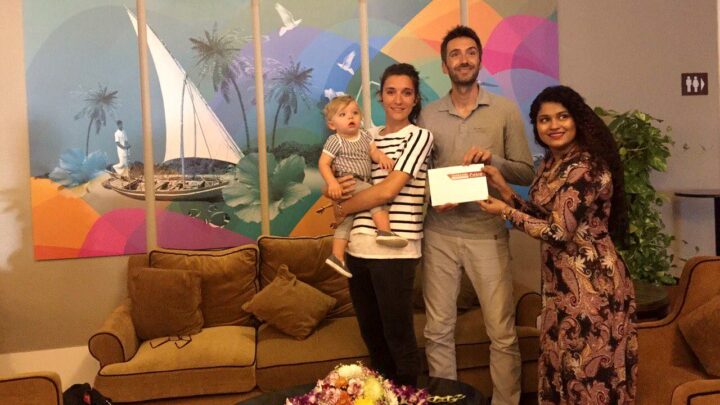 Maldives welcomes 500,000th visitor
The Maldives Marketing and Public Relations Corporation (MMPRC) has welcomed the 500,000th visitor to the Maldives this year.
The ceremony held yesterday saw the MMPRC, together with the Ministry of Tourism, welcome Nicolas Lamperin and his family with a free holiday from Banyan Tree Vabbinfaru and a commemorative plaque.
Officials from the ministry and MMPRC welcomed the guests at the VIP lounge, where Lamperin and his family enjoyed the performances of traditional Maldivian bodu beru, and other dances.
The event is part of the Visit Maldives Year 2016 campaign which kicked off at the beginning of the year by welcoming the first visitor of 2016. MMPRC, along with the ministry launched the campaign to welcome 1.5 million tourists during 2016.
The campaign will also organise roadshows, awareness programmes, competitions and other promotional activities both locally and internationally throughout the year.
As part of the campaign, the Maldives is also set to welcome the 1 millionth visitor to the country.
From January till April 2016, there were 21,178 tourists from France, representing a market share of 4.7 per cent.