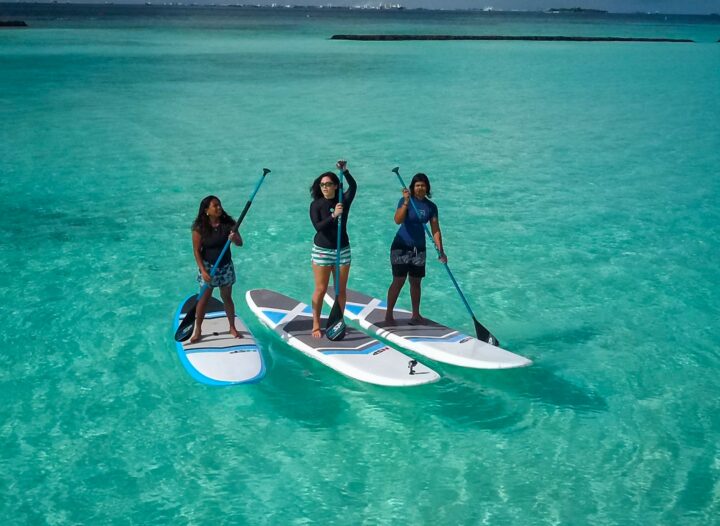 Stand Up for Our Seas 2019, an ambitious and daring journey of Baa Atoll
In February 2019, an unprecedented 100km stand up paddleboarding expedition around Baa Atoll, Maldives will be embarked upon by four courageous women. Veterinary surgeons Dr Cal Major and Dr Claire Petros from the United Kingdom, and ocean advocates Dhafeena Hassan Ibrahim and Shaaziya Saeed from the Maldives will be taking on this daunting endeavour to explore and identify the threats faced by the environment and marine life from plastic pollution, ghost fishing gear, and climate change.
The team will travel on stand up paddleboards around Baa Atoll, pausing at different local islands to conduct beach clean-ups, host talks at schools and give presentations to various resorts and their guests. They will also highlight the steps and initiatives already underway by the local communities to tackle these issues.
The Stand Up for Our Seas team will set off from Coco Palm Dhuni Kolhu on February 21, and they will travel around the majority of the atoll before finally ending their expedition back at Coco Palm Dhuni Kolhu on February 28.
Taking part in the expedition is Dr Cal Major who is an ocean advocate, veterinary surgeon, and founder of 'Paddle Against Plastic'. She is a World Record stand up paddleboarder, having conducted several world's first expeditions including stand up paddleboarding the entire length of the UK. In 2018 she received the UK Prime Minister's Points of Light Award for her work campaigning against plastic pollution and inspiring positive change.
Working as an accomplished Personal Trainer at Glowfit Gym in Male', Dhafeena "Dhafy" Hassan Ibrahim has never shied away from being drawn to nature and the unique environment of the Maldives. An avid bodyboarder, she co-founded the Raalhu Edhuru Raajje Tour, a non-profit programme initiated to teach children all over the Maldives to surf while spreading awareness on protecting our oceans and islands.
Her experiences all over the Maldives has made her realize that the challenges we face as a country can only be tackled by constant awareness and help from each other. She believes that this paddle boarding expedition can reach out to more people across the country and beyond in a positive manner
Dr Claire Petros's passion for nature started from a young age. While studying in Bristol, Claire joined the Exotic and Turtle Rescue team at her university. After graduation, Claire spent some time in Grenada working as a research assistant for the Wider Caribbean Sea Turtle Conservation Network.
After joining the Olive Ridley Project in 2016, she was instrumental in the opening of the Marine Turtle Rescue Centre at Coco Palm Dhuni Kolhu for injured sea turtles. Working as the Lead Veterinarian for the Olive Ridley Project, she travels to turtle rescue centres around the world to learn more about how best to medically treat and rehabilitate sea turtles.
Another Maldivian taking part in this expedition, Shaaziya "Saazu" Saeed began her career as a dive instructor in 2002 and worked for various resorts in the Maldives until 2010 and continues to work with local dive centres such Moodhu Bulhaa Dive Centre, and Dive Club. She is also the current Vice President of the Maldives Surfing Association.
Along with "Dhafy", she is the co-founder of Raalhu Edhuru Raajje Tour. Working as an ocean advocate, Saazu has seen the changes that the Maldives is facing due to climate change and plastic pollution on a first-hand basis and is committed to raising awareness about these issues.
Accompanying them will be James Appleton, an international award-winning landscape and adventure photographer and filmmaker most widely known for being the only photographer to risk camping on an active volcano in the Icelandic winter for four nights to capture once in a lifetime images of lava bombs under the Northern Lights.
The Stand Up for Our Seas team will be accompanied by a support boat comprising of a team from the Olive Ridley Project which will include Founder Martin Stelfox. They will also be joined by award-winning landscape and adventure photographer and filmmaker, James Appleton who will be documenting the entire expedition with photographs and films.
Stand Up for Our Seas is sponsored by Coco Collection and is being conducted in collaboration with Coco Collection's CSR partner Olive Ridley Project (ORP), a UK charity based in the Indian Ocean which rescues and rehabilitates turtles entangled by discarded fishing nets.
The Olive Ridley Project is a UK-registered charity founded in 2013, whose mission is to remove discarded fishing nets- known as ghost nets- from the ocean; rescue and rehabilitate sea turtles injured by these nets; reuse and reduce marine debris; and educate the world about the dangers of ghost nets and the perilous situation of sea turtles.
The Marine Turtle Rescue Centre on Coco Palm Dhuni Kolhu is run by the Olive Ridley Project; fully-equipped with 7 holding tanks and a surgical unit, it is the first and only veterinarian-led turtle rescue centre in the Maldives. For more information please visit www.cococollection.com.