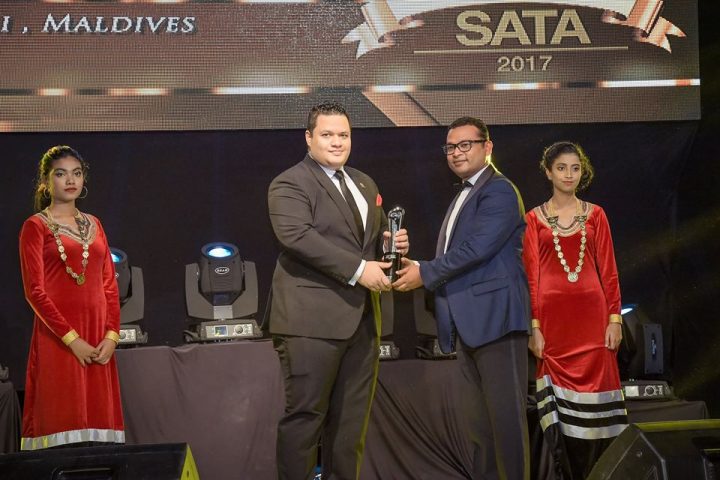 Maldives wins big at the South Asian Travel Awards 2017
Maldives walks away with 24 prestigious titles at the South Asian Travel Awards 2017. SATA Awards is the first ever regional travel awards endorsed by multinational associations providing the tourism sector of the South Asian Region with recognition towards their facilities and service excellence.
Maldives bagged top awards including Leading Honeymoon Destination, Leading Beach Destination, and Leading Diving Destination at the GALA Retreat held at Equator Village, Addu city. The full list of winners from the Maldives are;
Leading Airport Hotel: Hulhulé Island Hotel
Leading Wellness and Spa Brand: Araamu Spa
Leading Surf Hotels: Cinnamon Dhonveli
Leading All Inclusive Hotel and Brand: Lux* Maldives
Leading Wellness and Spa: Jumeirah Vittaveli
Leading Adventure Sports Service Provider: Q Adventures
Leading Activity Water Sports Centre: Best Dives Maldives
Leading Tour Operator: Inner Maldives Holidays
Leading Domestic Tourist Transport Provider (Air): Maldivian
Leading PSA Service Provide: Voyages Maldives
Leading GSA Service Provider: ACE Hardware
Leading Liveaboard Brand: Voyages Maldives
Leading Liveaboard: ScubaSpa Yang
Leading Travel Agent: Voyages Maldives
Leading Dive Centre: Dive Ocean
Leading Boutique Hotel and Resorts: Amilla Fushi
Leading Guesthouse Tourist Inn: Reveries Diving Village
Leading Dive Hotel: Adaaran Select Meedhupparu
Leading Family Hotel and Resort: Sun Island Resorts & Spa
Leading Luxury Hotel and Resorts: Soneva Jani
Leading Romantic Hotel: Jumeirah Vittaveli
Leading Designer Hotel and Resort: Cocoon Maldives
Leading Beach Hotel and Resorts: Summer Islands
Leading Marketed Hotel and Resort Brand: Adaaran Resorts
The South Asian Travel Awards aims to encourage and raise service standards within the regions of the Tourism industry. SATA's objective is to identify and reward hospitality organisations in the South Asian region by providing them opportunities to improve standards in terms of service and facilities.
Participants who joined the Gala Retreat included top Hoteliers, Travel Agents, Tour Operators and Service Providers from the Tourism Industry of India, Sri Lanka, Maldives, Nepal and Bhutan. With over 450 nominations from Bhutan, Maldives, Sri Lanka, India and Nepal for this year's edition the nominees competed in four major categories.
According to High Rise, the organiser of the event, the third edition of the awards will be held in India next year. Maldives took away 18 awards at the event held last year, while the first edition of the award was hosted in Sri Lanka in 2016.