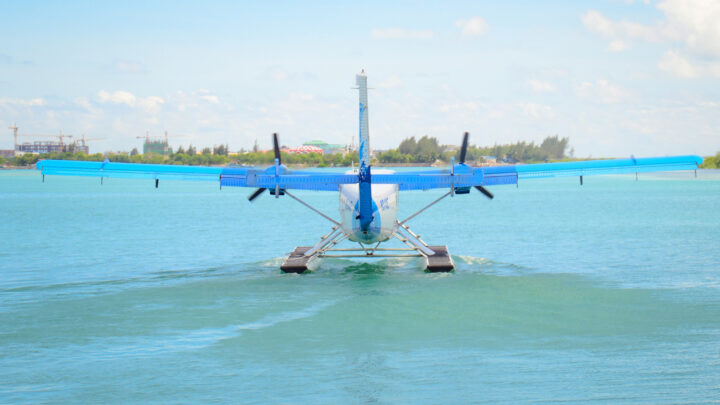 Maldivian acquires new addition to seaplane fleet
National carrier Maldivian adds a new aircraft to its seaplane fleet, as part of efforts to strengthen domestic operations. With the new acquisition of the 15-seat Canadian made DHC-6 Twin Otter, the airline increased its seaplane fleet to 9.
The new aircraft was brought in from Switzerland. "It is expected to join operations in a weeks' time," Ali Nashath Hameed – Head of Facilities and Maintenance at Maldivian told Hotelier Maldives. Maldivian – owned and operated by Island Aviation Services Ltd. – commenced seaplane operations a little over three years ago.
It now operates scheduled seaplane flights to 4 resorts destinations; resorts in Baa, Thaa and Dhaalu Atolls, in addition to providing ad-hoc chartered operations. Asked when an addition to the seaplane fleet could be expected next, Nashath said: "Not long now. We are already working on acquiring a new addition. The new aircraft is expected as early as late-March."
The airline commenced operations in 2000, and expanded its operations to international destinations in January 2008. The company was formerly known as Island Aviation until its rebranding in August 2008.
Maldivian entered the seaplane industry in 2014, and acquired its first seaplane in April 2014. "We introduced seaplane services because there was both the need and space for competition. Our long history in the aviation industry, coupled with our experienced team allows us to ensure that our passengers reach their destinations, and receive the best of services," Nashath earlier told Hotelier Maldives.
Maldivians' fleet is currently 20 strong; an Airbus A320-214, an Airbus A321-211, nine de Havilland Canada DHC-8 Dash 8 aircraft and nine de Havilland Canada DHC-6 Twin Otters. It flies to all domestic airports within the country and has scheduled operations to Bangladesh, two destinations in India, Bangkok in Thailand, and five destinations in China.
Hotelier Maldives' Mariyam Athiza Athif contributed to this article