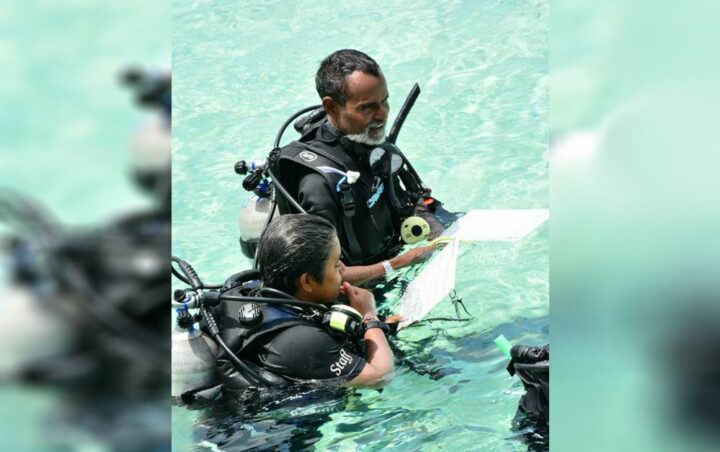 The first and only Maldivian PADI Dive Course Director 'Sendi' bids adieu to the diving community
Any diver in the Maldives will tell you it's impossible to splash down without having heard one of Sendi's anecdotes at least once. Mentor to literally thousands of students, (he's certified 1600 divers to date), the immensity of the contribution that Sendi has made towards diving in the Maldives is indisputable.
Sipping coffee with me at Seagull Café is a humble but excitable character, full of praise to the young divers taking the lead today, ocean-wide. Yet the first and only Maldivian PADI Dive Course Director (to date), Mr Hussein Rasheed (better known as Sendi) is ready to bid adieu to his management roles in the diving community.
Starting from the date of his very first dive in 1981, his remarkable career culminates in celebrating his 30th anniversary of PADI membership (since he earned his Dive Master credentials in 1986) as well as earning the title of Silver Course Director this year, 2017.
But Sendi's more than just the face of PADI in this region, an impressive feat though that may be, he's also the former Dean of the Faculty of Marine Studies at Villa College (2006 – 2008), affiliated as an Executive Director of all Villa Dive Centres under his company, Dive Oceanus and a founding member of the Divers Association Maldives (DAM). Sendi is to be succeeded by two Instructor Trainers well on their way towards completing their courses."I'm not hanging up my mask," he tells this writer, "but it's time for me to enjoy myself." He definitely still has his feet firmly underwater, his next project is an in-depth study of seagrass and the various commercial benefits of farming it. The ocean is full of mystery and possibility and Sendi still sets his sights towards discovering as much as he can.
As he spoke about the strides that Maldives has made as a diving destination, and of creating and training qualified divers and diving instructors, he spoke with pride of the increasing number of Maldivian divers that continue to enter the field.Back in his time, Sendi was only the third Maldivian Instructor to complete training, and the diving industry he entered had been saturated with more qualified foreigners.
"We have come so far as an industry since my company opened the first dive centre run and owned by Maldivian management via Qasim Ibrahim in 2003," Sendi reminisced. He further elaborated his happiness that various facilities in the country followed suit by opening more doors for the progress of the Maldivian divers.
More interesting though was when he educated me on the many trends he's observed including the migratory patterns of various types of fish, the differences in topology and the conversation inevitably turned towards the varying degrees of destruction the environment has faced in the last few decades.
As someone who has spent a calculated time of over one year and six months in hours underwater, Sendi has many strong opinions about the different effects overfishing has had on larger predators, how illegal shark finning affected Maldivian shark populations and especially how dredging for land reclamation affects the reefs surrounding the island.One must consider the geography of the Maldives to understand his concern; the country is made up of atolls that consist of a large, ring-shaped coral reef supporting numerous small islands. The corals themselves are sessile animals that feed, reproduce, and can even have relationships with other organisms, just like any other animal we share the world with. That means that the whole of the Maldives is alive and breathing, full of more beauty and wonder than we humans can truly comprehend."It is not up to us to disrupt the natural balance of the underwater world. It will have consequences for us living above it," says Sendi. "Yet it is impossible to grasp the relationship we have with our islands without putting on a mask and venturing into the water that is why we all have a responsibility to do it."
Sendi, who was instrumental in organising of what is now the infamous underwater cabinet meeting held in the Maldives during the time of former President Mohamed Nasheed, says that the idea was not to do something outrageous for PR, but to make sure policymakers truly understood the structure that the island stood on, a strategy that he feels will always be necessary to consider in protecting this island nation.
He thanks his father for inspiring him to venture out into the blue, and to succeed in his chosen field. "He taught me that the ocean was not something to fear, but that it had much to offer." His wife of 30 years and their two children, he credits with the rest of his impressive journey.
Aquatic till the end, Sendi tells me that his passion for all things marine will never fade – and it is not difficult to believe him. A man whose heart will probably always be submerged in salty waters, we at Hotelier Maldives are sure he will navigate the currents with expert ease, as he has always done.