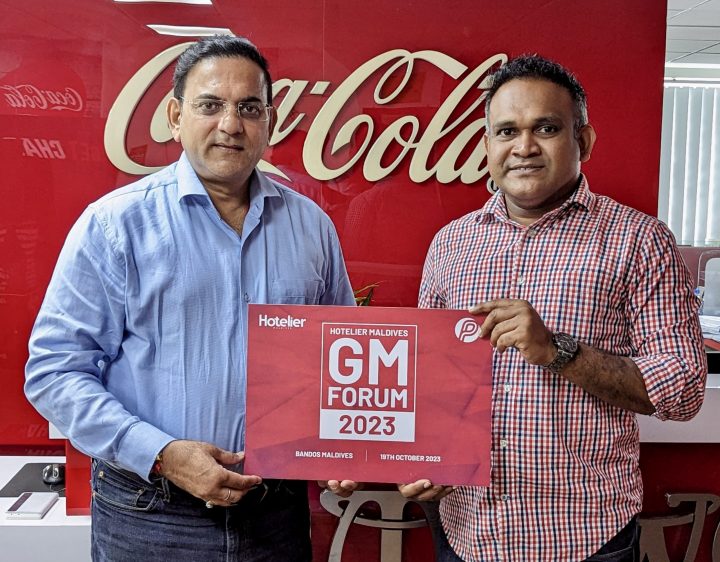 Male' Aerated Water Company named as Beverage Partner for Hotelier Maldives GM Forum 2023
Hotelier Maldives, the leading tourism and hospitality publication in Maldives, today announced the signing of Male' Aerated Water Company (MAWC) as the exclusive Beverage Partner for the highly anticipated General Managers (GM) Forum 2023. The event is scheduled to take place on October 19, 2023, at Bandos Maldives, bringing together industry leaders, innovators, and experts from the global hospitality sector.
As the Beverage Partner, Male' Aerated Water Company (MAWC) will ensure that attendees at the 2023 GM Forum are well-hydrated and refreshed throughout the event. With a portfolio of world-famous The Coca-Cola Company beverages, MAWC will provide a range of options to quench the thirst of delegates and participants, enhancing their overall experience.
Milind Derasari, Chief Operating Officer at Male' Aerated Water Company (MAWC), expressed his enthusiasm about the partnership: "We are honoured to be the Beverage Partner for the prestigious 2023 GM Forum. MAWC is committed to providing high-quality beverages from The Coca-Cola Company's world-renowned portfolio that complement the exceptional discussions and networking opportunities the forum offers. We look forward to being a part of this exciting event."
The GM Forum, since its inauguration in 2016, has been a dedicated platform for over 100 general managers and hoteliers to gather, discuss industry-related problems, exchange ideas, and propose solutions. Now in its seventh edition, the theme for this year's forum is 'Innovation and Technology for Sustainability'. This theme reflects the rise in new technologies, the fast-paced changes in the world, and the increasing number of eco-conscious travellers. It also aligns with the 'Tourism for Good' concept, emphasising the role of the hospitality industry in promoting sustainable practices.
Ibrahim Mahudhee, Managing Editor of Hotelier Maldives, commented on the partnership: "MAWC's role as the Beverage Partner for the 2023 GM Forum adds a refreshing touch to the event. Their range of Coca-Cola products, known for their iconic taste and quality, will undoubtedly enhance the event's atmosphere."
As the Beverage Partner, Male' Aerated Water Company (MAWC) will ensure that delegates and participants have access to a wide selection of beverages that cater to diverse preferences, contributing to the overall enjoyment of the 2023 GM Forum.