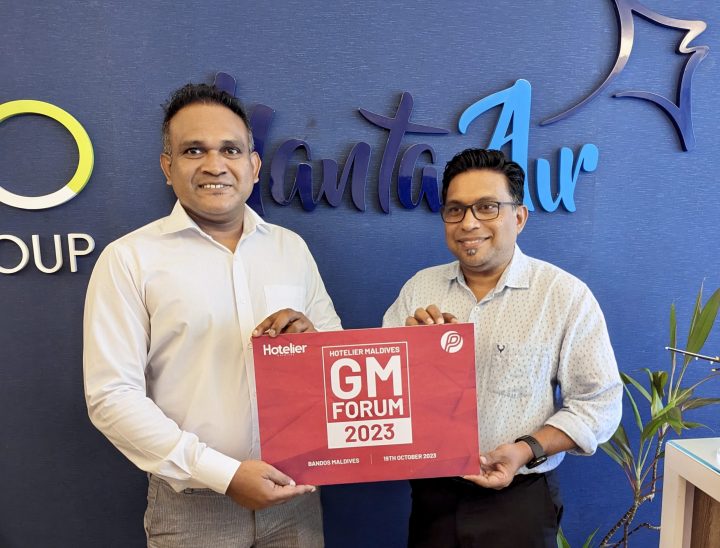 Manta Air joins as Aviation Partner for Hotelier Maldives GM Forum 2023
Hotelier Maldives, the leading tourism and hospitality publication in Maldives, today announced the signing of Manta Air, the five-star experience in the skies of the Maldives, as the exclusive Aviation Partner for the highly anticipated General Managers (GM) Forum 2023. The event is scheduled to take place on October 19, 2023, at Bandos Maldives, bringing together industry leaders, innovators, and experts from the global hospitality sector.
As the Aviation Partner, Manta Air will add a touch of luxury and convenience to the GM Forum 2023, and showcase its commitment to delivering a first-class flying experience to visitors.
"We are thrilled to join forces with Hotelier Maldives as the Aviation Partner for the GM Forum 2023. Manta Air's unwavering dedication to delivering a top-tier flying experience seamlessly resonates with the forum's overarching commitment to achieving excellence. The event promises engaging conversations and valuable networking prospects, and we eagerly anticipate the meaningful interactions ahead," stated Ahmed Maumoon, Deputy Chief Executive Officer at Manta Air
The GM Forum, since its inauguration in 2016, has been a dedicated platform for over 100 general managers and hoteliers to gather, discuss industry-related problems, exchange ideas, and propose solutions. Now in its seventh edition, the theme for this year's forum is 'Innovation and Technology for Sustainability'. This theme reflects the rise in new technologies, the fast-paced changes in the world, and the increasing number of eco-conscious travellers. It also aligns with the 'Tourism for Good' concept, emphasising the role of the hospitality industry in promoting sustainable practices.
"Manta Air's role as the Aviation Partner for the 2023 GM Forum enhances the event's holistic experience. Their dedication to providing a premium travel experience aligns well with the dynamic and forward-looking spirit of the forum," Ali Naafiz, Editor of Hotelier Maldives, added.