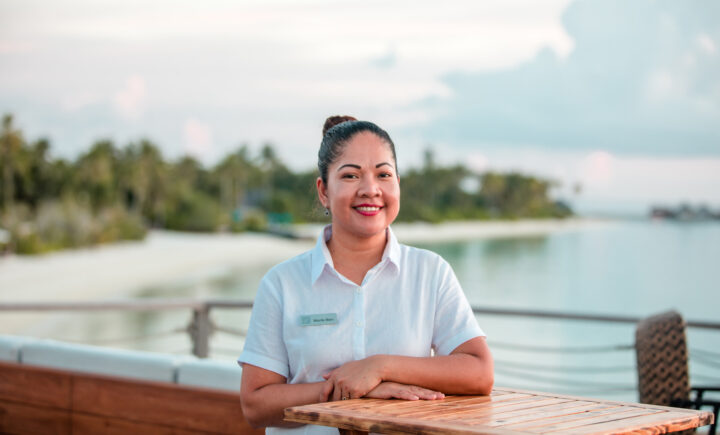 Women in Hospitality: Marife Tolentino Bien, Wellness Manager, Fairmont Maldives Sirru Fenfushi
Marife Tolentino Bien, the woman behind the first ever Willow Stream Spa in the Indian Ocean, is the shining example of the heights women can reach in the hospitality industry. A firm believer of where there are challenges, there is also an opportunity, Marife was ecstatic in narrating to us at Hotelier Maldives, her wonderful career and the experiences she gained from it.
Hotelier Maldives: Could you tell us about your beginnings and how you got interested in the field?
Marife Tolentino Bien: My professional career started after completing a Bachelor of Science in Commerce, Major in Business Management at the University of Batangas in the Philippines.
It was quite a long journey for me before I stepped into the hospitality industry. Back in 2005, I worked for a Recruitment Agency in the Philippines for four years. However, the 9-5 office work didn't quite suit me. I realised I was in search of something more challenging than a regular office job.
I have always been a people's person and discovered that I enjoy guest facing jobs. I've always had a passion for guest service. This passion was further ignited when I got the opportunity to join the hospitality industry, particularly in spa and wellness.
What I find very rewarding about the holistic concept of spas and wellness is the incredible effect that it instantly gives guests. Turning every moment into memory is a daily routine for me in the spa. I really love seeing the instant gratification of guests after their spa experience.
HM: Could you briefly tell us about your journey up until now?
MB: I started my hospitality career in Yas Vice Roy Hotel at the Yas Island in Abu Dhabi. I was part of the pre-opening team. I took on the role of a guest service assistant called ESPA.
My career continued to progress and in 2012, I joined Fairmont The Palm in Dubai. I had another opportunity to be part of the pre-opening team, for Fairmont's renowned Willow Stream Spa.
My passion for my work inspired me and the reward was worth it. I quickly advanced into various roles, starting from a spa receptionist to a spa manager in six years. After my time in Willow Stream Spa, I was presented with a great career move to the Maldives. I joined Fairmont Maldives Sirru Fen Fushi as the wellness manager and was tasked to open the first ever Willow Stream Spa in the Indian Ocean.
HM: As a woman in hospitality, how important do you believe are women to the industry?
MB: I think women play an important role in the wellness industry. Our deep understanding of female guests who mostly frequent the spa, in general, is second to none. As women, we know the stress that the modern woman experience in the various roles we play in society, be it a wife, a mother or a sole provider for the family. Nowadays, women take on roles that were once male-dominated roles. I myself am proud to be part of 'AccorHotels' RiiSE' network formerly known as WAAG (Women at AccorHotels Generation).HM: You must have faced quite a few challenges to get where you are today, could you tell us how you addressed them?
MB: One experience that stands out, in particular, is developing and converting Fairmont The Palm's Willow Stream Spa into a luxury wellness medical spa.
The feedback from the local market when we enhanced the offering of the Willow Stream Spa was overwhelming. We managed to change the customer behaviour, the local Arabic community who use to travel outside the UAE for various body enhancements started to visit us instead and they have since become regulars. We were able to deliver the market demand and we made it a huge success.
I am a firm believer, where there are challenges, there are always opportunities. As a hotelier, I face daily challenges but the art of turning around a difficult situation is what is most important for me. No matter what country I have worked in, nothing makes me happier than investing a talent succession plan and seeing my team develop and grow further in their career.HM: As a wellness manager, could you briefly take us through your everyday daily routine a bit?
MB: I'm not exactly a morning person. However, I usually start my day at 7 am. I make it a habit to take a moment to thank God for another beautiful day and ask for his blessings. I ensure that I take care of myself by drinking two glasses of warm water, have a quick stretch followed by a light breakfast.
My day then begins at the spa from a quick briefing with my team, review guest bookings, attend daily meetings and do my morning routine walk around the spa. The best part of my day is welcoming and getting to know every guest that books a spa treatment with us. I enjoy getting their feedback at the end of their spa experience.
My day ends usually at 8 p.m. where I try my best to hit the gym at least three times a week and be in bed by 11 p.m. to ensure that I have at least 8 hours of sleep in order to fully energise for the next day.
HM: What would you like to say to other women who are following in your footsteps of succeeding in the hospitality industry?
MB: First, I think it's important for women to know that it is okay to make mistakes but learn from each one. Women tend to be harder on themselves than men. We always tend to compare ourselves with other women. I think the more we discover ourselves, the stronger we become. Use all the learnings to be the best version of yourself.
Secondly, we should make sure that we maintain a strong and progressive career. Don't be tempted to jump at every opportunity that comes your way. Have a plan, know what you want and where you want to be in your career. Stick to your goals no matter how hard. There will be obstacles but stay true to yourself and follow your path.