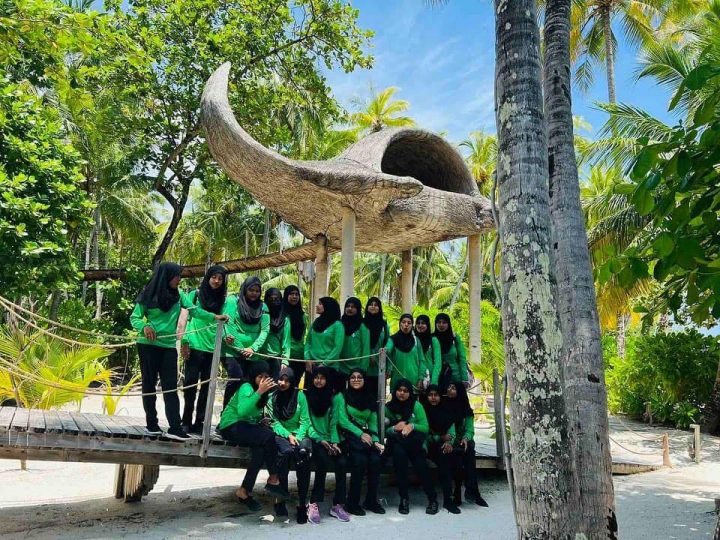 18 Girls Successfully Complete #CodeforClimateMV Funded by JOALI Maldives
18 Girls of Raa Atoll School have completed Women in Tech Maldives's #CodeforClimateMV programme funded by JOALI Maldives. 
The programme was designed to spread climate awareness through code and it introduced the participants to Python and Machine Learning. 18 girls from grade 7 to 10 participated in the hybrid, online and face-to-face training sessions held over 2 months in Raa Dhuvaafaru.
The closing ceremony was held in Raa Atoll School and the General Manager and the management team of JOALI Maldives were also in attendance at the ceremony alongside senior officials from Women in Tech Maldives. During the closing ceremony, the participants presented products they made with the skills acquired through the program.
JOALI Maldives Resort Manager Shifaz Hassan congratulated the participants of the programme and noted that they "strongly believe in the importance of gender equality and to the development of talented women across all industries to create a sustainable future" and expressed that "JOALI Maldives will continue to support the communities and women of Raa atoll to build that future."
JOALI Maldives is a passionate supporter of women empowerment and the funds donated to Women in Tech Maldives were raised by guests and hosts over the festive period to support nongovernmental organization working in the Maldives.
The resort has been working closely with the local communities to promote education and inspire the upcoming generations across different programs and initiatives. Recently the resort opened a Reading Park and Special Education Needs (SEN) classroom at Ungoofaaru School to enhance the schools' educational facilities, and in May-June this year, the resort also participated in the Raa Tourism Expo 2022, Culinary Arts Exhibition in Raa Meedhoo and Water Sports Exhibition in Raa Hulhudhuffaaru to foster an interest among students in the hospitality sector.
JOALI Maldives' CSR strategy, Joy of Caring, focuses on Joy of Preserving, which promotes environmental initiatives; Joy of Supporting, which fosters community engagement; Joy of Empowering, which supports women empowerment; and Joy of Conserving, which drives operational sustainability.
Featured Image: WomeninTechMV