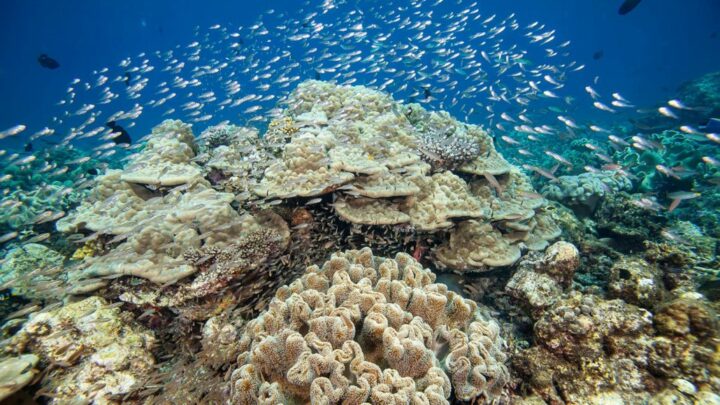 Marine marvels at Hurawalhi Maldives
Opened in December 2016, Hurawalhi Maldives is one of the newest properties in Faadhippolhu (Lhaviyani) Atoll, that has put marine conservation and sustainability at the forefront of their unique hospitality efforts. Led by a resident marine biologist and run in close cooperation with Prodivers Maldives and the Manta Trust, the resort is home to the Hurawalhi Marine Biology Center where they share their passion for the ocean with guests, and further studies the unique marine environment of which Hurawalhi is a part.
Lhaviyani Atoll is made up of a number of narrow and shallow channels that funnel the nutrient-rich water directly into Hurawalhi's proximity, resulting in an incredible amount and variety of marine life. The island sits between two such channels and as a result is home to an abundance of sea life.
Currents, abundant sun and clear water provide aquarium-like conditions for over 2,000 species of fish and more than 200 species of coral. Crustacea and invertebrates are aplenty in the Maldives too.Meet the Marine Biologist, Lisa Bauer
Hurawalhi Maldives lies amid the Indian Ocean's most biodiverse coral reefs, with the large numbers of manta rays indicating the good health of the ocean realm. With so much to explore right on Hurawalhi's doorstep, it is only fitting to have a marine biologist on site.
Lisa Bauer, Manta Trust researcher and resident marine biologist at Hurawalhi Island Resort, brings a wealth of knowledge and experience to the resort's Marine Biology Center. Lisa completed her university studies at the University of Vienna, specialising in biology with an emphasis on conservation biology, marine biology and symbiosis and molecular techniques. She has made her theoretical studies tangible through numerous projects, including sea turtle and manta ray identification, as well as coral nursery installation and maintenance.
As part of the Hurawalhi Manta Ray Identification Project, Lisa will accompany guests on designated manta ray snorkelling and diving excursions to tell guests more about the 400+ identified Lhaviyani Atoll manta rays. In addition to enhancing manta experiences, Lisa's work will focus on the atoll's sea turtle and shark populations. Her snorkelling and diving excursions will take guests out on a journey to experience these amazing creatures first hand, while guests also contribute to the research.
At Hurawalhi's Marine Biology Center, Lisa will hold workshops and marine biology presentations, aimed at providing insights into research and conservation initiatives and other interesting ocean ecology topics. At the centre, guests can flip through fish ID books and manta photos together with Lisa and get to appreciate the fact that we can't do everything to protect the oceans – but each one of us can do something.Mantas of Faadhippolhu Atoll
Thanks to the ongoing research of the Manta Trust and the Prodivers Team, the waters around Hurawalhi have been identified as one of the Maldives' hot spots for Manta Ray sightings – one of the Ocean's largest and gentlest inhabitants.
With an average wingspan of 2.5-3 meters, Manta Rays are incredibly graceful and elegant and seeing one in its natural environment is a life-enriching experience.
Over 400 individual Manta Rays have been identified around Hurawalhi and the Lhaviyani Atoll, with almost a quarter of these having first been recorded just a few meters away from the Resort at a submerged sandbank where the Manta Rays come to feed on the nutrient-rich water being brought into the Atoll.
Through 10 years of ongoing research and countless images of the spot pattern on the underside of the Manta, the Manta Trust and Prodivers have been able to build up the following profiles of 2 of the identified individuals that frequent the waters around Hurawalhi.
Meet Crusty and Veleron
Crusty loves the Lhaviyani and is one of the most seen Manta Rays in the Atoll. With a wingspan of 2.54 meters, Crusty is a female sub-adult that was first identified in July 2008/ Since then, she has been spotted a staggering 28 times in lhaviyani atoll, with almost half these sightings at the Hurawalhi Sandbank. At the time of publishing, Crusty was last seen in Januray, where she was feating on the plankton-rich water that accumulates close to Hurawalhi at this time of the year.
Veleron is a male Manta Ray that was also first recorded in 2008 with sightings in both the Baa and Lhaviyani Atolls. Since then, Veleron has been travelling extensively around the Maldives and been spotted in a total of 4 different Atolls. A male Manta Ray, with a wingspan of almost 3 meters, Veleron's behaviour has been very different to that of Crusty covering vast distances, possibly suggesting that Veleron has been searching for something?
In addition to spending long parts of their day feeding, Manta Rays like to keep themselves well groomed and can also be seen on designated 'cleaning stations'. Manta Rays are social creatures and following on from such extensive grooming routines, it makes sense that Manta Rays seek out the company of potential partners. Cleaning stations have been seen to double up as mating areas and indeed, it appears that Veleron's extensive searching for a partner around the various Atolls brought success in November last year as he was observed in a courtship ritual.
The Lhaviyani Atoll is home to such a cleaning station at Fushivaru Thila, which has been officially recognised as a Marine Protected Area to allow such behaviour to continue to thrive.