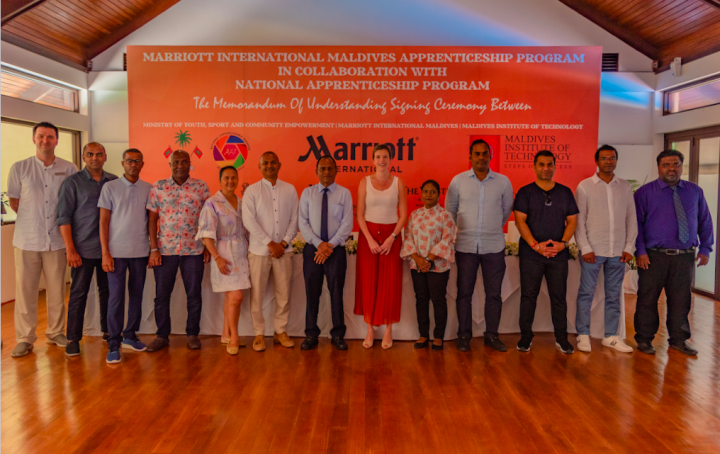 Marriott to Hold Apprenticeship Recruitment in Addu City on April 8 & 9, 2023
Marriott International Maldives will hold the first recruitment activity for the Apprenticeship Program in Addu City on April 8 and 9, 2023. The two-day recruitment sessions will take place in Hulhumeedhoo on April 8, 2023 at Seenu Atoll School between 10 AM to 3 PM, and in Hithadhoo on April 9, 2023 at Addu High School between 10 AM to 3 PM. Recruitment open days will also be held in Kulhudhufushi and Malé.
The apprenticeship will begin in early May with a duration of eight months. 50 selected apprentices will work in their placed disciplines while attending theory sessions to fulfill the requirements of a Maldives Qualification Authority (MQA) approved level-III certificate. Once the pilot is proven to be satisfactory, it can be extended to a second year by offering of Certificate-IV (Advanced Certificate) to the apprentices.
Apprentice should meet the following criteria:
Applicants need to be over 16 years old and be able to complete the 8-month program
GCE Ordinary or Advance level qualification
Good command in English communication
Passionate about the hospitality industry
Flexible
This open-day initiative is following the Memorandum of Understanding ceremony between Marriott International Maldives, the Ministry of Youth, Sports, and Community Empowerment, and the Maldives Institute of Technology (MIT) to provide aspiring young people with the opportunity to gain valuable hands-on experience in the Maldives' thriving tourism industry and develop their skills, with the possibility to grow with the company. Marriott International is the first International Hospitality brand to collaborate with the government apprenticeship program.