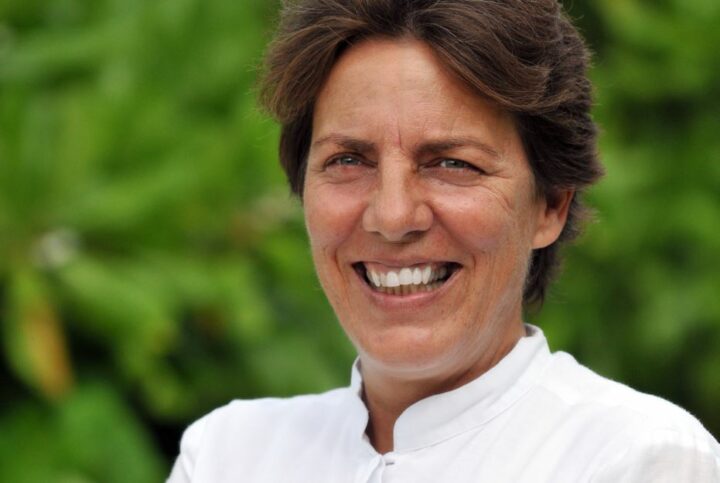 GM's View: Marteyne van Well, General Manager at Six Senses Laamu
A strange twist of fate led Marteyne van Well towards a career in the hospitality industry. With her personal goal of pursuing a career in sports, she enrolled at a Sports Academy. But what led her to make a U-turn and end up as the General Manager of one of the luxury resorts here in the Maldives? Hotelier Maldives sits with her to find out.
Hotelier Maldives: You've been working in the tourism sector for well over a decade now. What made you enter the field of hospitality in the first place and what brought your career over to the Maldives?
Marteyne van Well: My parents did not think that sports was the best of career choices and encouraged me to look at alternatives. I was inspired by a General Manager who ran a restaurant where I worked on weekends as a student and I enrolled with the Hotel School, The Hague (more to please my parents than to seriously consider it as an option).I was fortunate to be accepted by both within the week leading up to the day I needed to make a choice. But I had a fairly serious bike accident and ended up spending two months in hospital with a concussion.
Needless to say, Sports Academy was no longer an option so I joined the Hotel School in The Hague. I was incredibly lucky to have roles in various parts of the globe and when working for Six Senses Hotels, Resorts and Spas, I was fortunate to be transferred to the Maldives in May of 2009.
HM: Throughout your career, you've had experiences working at various Six Senses Resorts. How would you sum up the Six Senses experience and what it's about?
MVW: The Six Senses experience is about genuinely caring.  Not only about our guests, but also about our hosts and our environment. The Six Senses experience is summed up to our core values; local sensitivity, a global sensibility, pioneering wellness, responsibility & caring, emotional hospitality, crafted experiences and fun.
HM: What aspects of Six Senses Laamu would serve to set it apart from its competitors?
MVW: What sets Six Senses apart is our focus on marine conservation and sustainability, in combination with the local community outreach. We genuinely care about our environment and the impact we have on it. We are keen on sharing our passion for the environment with our guests and keen on contributing to our local communities through shared interest and education.Additionally, I think service is key in the hospitality industry. As a GM you have the best day when guests share the impact that hosts have had during their stay. I think at Six Senses Laamu, it is the team that differentiates us from the competitors. The primary reason why guests return to the resort is the service, the personal engagement and care the team provides.HM: As someone who has worked for a number of luxurious high-end properties, how would you define luxury?
MVW: Luxury for me is doing things at your own time and having space and freedom to do it. Create a luxury experience where nothing "has to be" but at the same time everything is possible; you have choices and time and the freedom to make choices.For example here in Laamu Atoll, we are fortunate to be the only resort thus far. Luxury for a guest who is an avid surfer is to have the Yin Yang all to themselves; luxury for an avid diver is to share the magical underwater world with just the mantas and without a crowd of other people. For me, luxury is the fact that the ocean colour is a different kind of blue every day.HM: What experiences and skills in your long working life have best prepared you for your current position at work?
MVW: I think I was blessed with a great foundation of my parents. I think the most important skill we can have is "gratitude". The opportunity is every experience! The hospitality business is an amazingly rewarding career and certainly allows me to apply my passion to work every day. It is an exciting profession and can open many doors for you throughout your career albeit the hours and days are long. I believe you must drive yourself to constant learning and commit to innovation and celebrate creativity.And once you have developed yourself as a leader, surround yourselves with a great team of passionate, hard-working, fair professionals who can assist you in setting and managing the resort's goal and objectives. I think with time and experience you learn not to be afraid to take chances.It will not all magically turn into a success but therein lies the best lesson: if you fall, get up, shake it off, and go back to work!
HM: As the role of a general manager largely involves leading and directing people, do you adhere to a certain management style or philosophy? MVW: For me, my ethos, is that you have to be honest and direct. You have to do what you say. One of my mentors, Maria Razumich, said: "Your reputation and integrity are everything. Follow through on what you say you're going to do.
Your credibility can only be built over time, and it is built on the history of your words and actions." I believe those words say it all.HM: As the general manager for a resort employing well over 300 staff looking at you for guidance, what sort of advice do you have for the rising talents of the industry?
MVW: To follow your dreams and commit. In order to succeed, we all have to do the hard work and we have to be committed and be engaged. And to also make certain that what we do matters, make certain you care and are passionate about what you are involved in. Someone wise once said: "Work is expending effort on things we don't want to do. Passion is expending energy on things we love to do. The goal is to do no work!"
HM: Since you've worked in the Maldivian tourism sector for quite a long time, what are the main changes within the sector that you've observed over the years and are there any changes you anticipate for the near future?MVW: There are definitely many new resort openings and development coming up. My hope is that there is a plan to achieve sustainable growth without this being at the expense of the environment. I hope that the development plan stays on the right side of the tipping point.HM: Where do you see your career going from here?
MVW: I hope Six Senses Laamu for many more years to come! I am blessed to be working with an amazing group of hosts, for an excellent company and with great owners. To be fortunate to be able to utilise my talents and work closely with the team on a day to day basis on matters that we care about is the best job in the world.
HM: Tell us about something that was a pleasant surprise to you that you never expected to have while working here.MVW: I would definitely say the passion of the people and the magic of the underwater world. Even after seven years in the Maldives, they do not cease to amaze me. There are wonderful initiatives being carried out in local islands and to see the community engagement for efforts like the Laamu Atoll Turtle Festival is inspirational.An avid diver, the underwater world is truly magical here; we are very fortunate and need to do everything possible to safeguard and protect it.