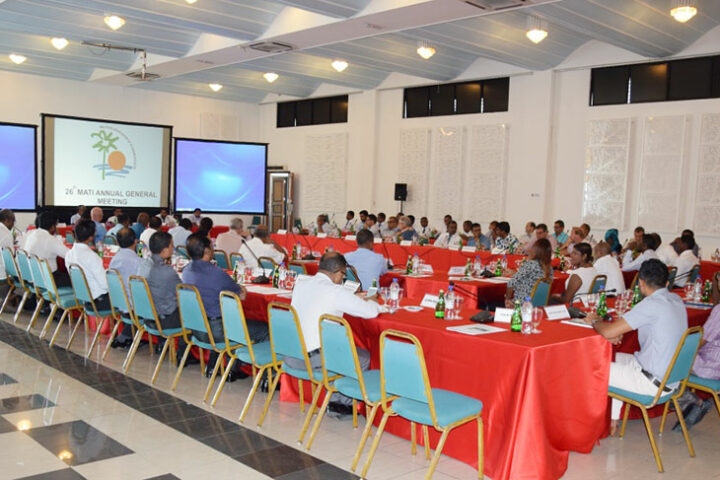 MATI holds 26th Annual General Meeting
Maldivian Association of Tourism Industry (MATI) held its 26th Annual General Meeting today at Dharubaaruge. In attendance were various members of the association which included prominent business personalities Hussain Afeef and Qasim Ibrahim.
In his address, MATI Chairman, Mr. M. U. Maniku mentioned that 2015 had been a challenging year. He noted the slump in bookings during the traditionally busiest months for resorts, and observed the knock-on effect the fluctuation of currencies, especially the Euro had had on the Euro based markets. "We believe that 2016 will be similar, but we're encouraged to see that interest in the destination continues to be strong," he said adding that the year has shown how resilient the tourism industry could be.
MATI's Secretary General Ahmed Nazeer echoed the sentiments of the chairman. He highlighted the drop in bednights by 0.3 per cent, in 2015 in comparison to 2014, and the fall in average occupancy of resorts from 74 per cent in 2014 to 69 per cent in 2015. However, he also noted the growth in guesthouse and liveaboard markets. "These aren't bad statistics," he said. "But it's a mixed bag, and like the chairman has pointed out, these figures indicate how resilient we can be in testing times."
Nazeer also expressed his optimism about the Chinese market and stressed the importance of being in partnership with the government to promote the destination. He thanked the president and the tourism minister for their support to the industry.
The meeting also saw the adoption of a financial report and the appointment of auditors. The executive board of the association remained unchanged from the previous year.