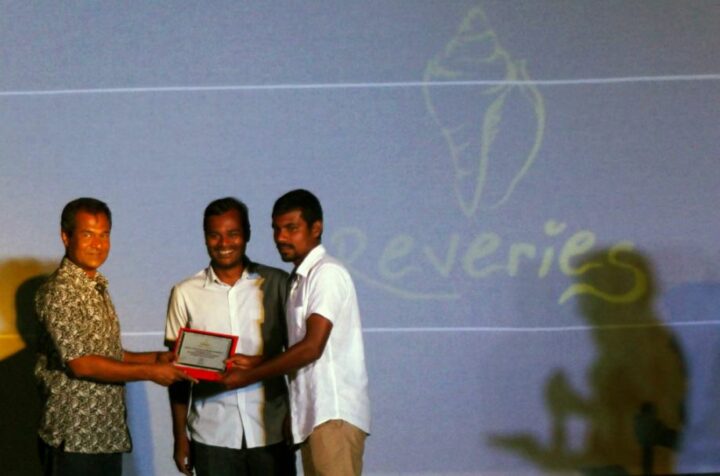 Reveries Diving Village celebrates 5th Anniversary
Reveries Diving Village celebrated their 5th anniversary over the weekend, by hosting a traditional Maldivian banquet, as well as a music show to the local population of Laamu Gan.
A large crowd from Laamu Gan joined in on the festivities along with senior executives from Bison Maldives Pvt Ltd, the proud owners of Reveries attended the ceremony that concluded last night.
During the festivities, CEO of Bison Maldives Pvt Ltd, Mr. Abdul Majeed, who awarded various recognitions to a number of handpicked employees acknowledging their hard work and dedication over the years.
One of the first guesthouses in Maldives, Reveries Diving Village has achieved many milestones over the past five years, and has been recognized by the industry as a leader in the guesthouse business. Last year, the property took home the "Leading guesthouse" and "Leading Innovation in Guest House Design" awards at the MATATO Maldives Travel Awards.
Reveries is built in a unique contemporary Maldivian style on an exquisite beachfront location, and offers their guests a complete local experience on par with large luxury properties.
The Maldivian island life and serenity of Laamu Gan with its unique features, such as a mythical freshwater lake and ancient ruins from the Buddhist era adds distinctive value to the guests who travel to Reveries Diving Village. 
Reveries Diving Village houses four types of rooms. Within the guesthouse; a swimming pool, water sports center, spa, souvenir shop, bicycle rental shop and 24-hour front desk/room service is available.
The guesthouse also offers access to some of the most unexplored surf breaks in the Maldives; including Yin Yang and other world class breaks. Reveries Diving Village is a 20-minute drive from Kadhoo Domestic Airport after a 35-minute flight from Velana International Airport.