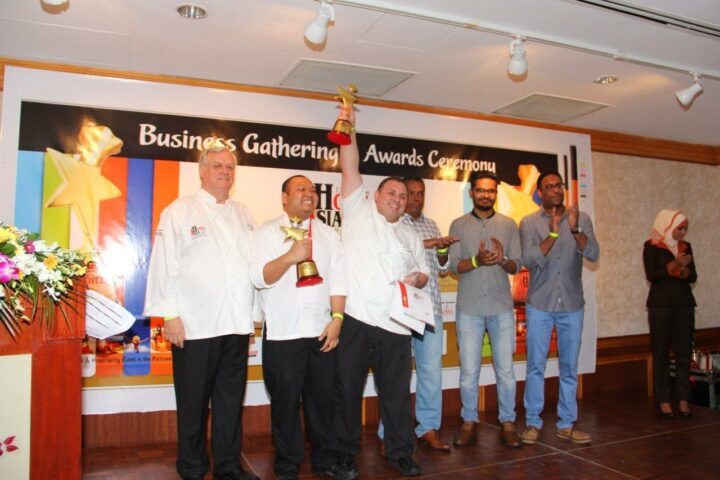 MECS and BBM pull off another successful edition of Hotel Asia Exhibition & International Culinary Challenge
The 12th annual Hotel Asia Exhibition & International Culinary Challenge concluded on 7 September.
The Hotel Asia Exhibition & International Culinary Challenge is organised by the Maldives Exhibition and Conference Services (MECS), together with the event's long-standing partner and main sponsor Bestbuy Maldives Pvt Ltd (BBM).
Since its inception, BBM has been the sole sponsor of the Hotel Asia International Culinary Challenge. In 2014, the company became the main sponsor of the Hotel Asia exhibition.
The Maldives' biggest culinary competition took place from 4 to 7 September with more than 500 entries from over 40 hotels and resorts competing for the coveted trophies in 20 categories.
The culinary challenge was judged by a panel of 18 international judges.
"We are very impressed about the response. Most of the decision makers attended the event. We are very thankful to our valued customers for meeting us every year. This was a well-planned event organised by MECS and we are very proud to be the main sponsor," said Mohamed Mazloom, CEO of Bestbuy Maldives (BBM)
Sponsored by BBM, Winners of the Best Culinary Establishment, Team Challenge, Most Outstanding Chef, Top Maldivian Chef, Outstanding Pastry Chef, Tea Challenge, Dress the Cake, Novelty Cake, Dessert, Bread and Pastry Display, Hot Pasta Appetizer, Creative Asian Dish, Young Chef, Iced Mocktail, and Hot Cooking Seafood received kitchen equipment, electronics, airline tickets and cash prizes.
Each year, BBM hosts culinary masterclasses with Michelin-starred chefs to help competitors prepare for the elite competition.  The company also conducts culinary seminars such as its Molecular Gastronomy Seminar in 2015.
Bestbuy Maldives (BBM) is a leading provider of resort supply solutions, specialising in importing the highest quality food and beverage products. The company supplies to all the resorts in the country as well as a selection of liveaboards.
BBM is the authorised distributor of many global brands, known worldwide for their exceptional quality. The company aims to provide the hospitality professionals with the best of the best. Products from companies such as Unilever Food Solutions and Vismark are distributed by BBM, along with Ireks, Ravifruit, Lamb Weston,TWG and RedMan to name a few.
With the introduction of new products to the market, the company organises workshops and seminars to teach chefs about what the products can offer, often by bringing international chefs to share their expertise.
Once a year, BBM also handpicks a selection of chefs from the Maldivian hospitality sector and sponsors their travel abroad to widen their culinary knowledge. In the past, BBM has sent Maldivian chefs to Germany, Dubai as well as Malaysia.
BBM's innovative supply network, alongside its commitment to investing in the future of the hospitality industry, has earned the company a reputation for being one of the most forward-thinking supply firms in the country.
Visit www.bb-mld.com for more information.