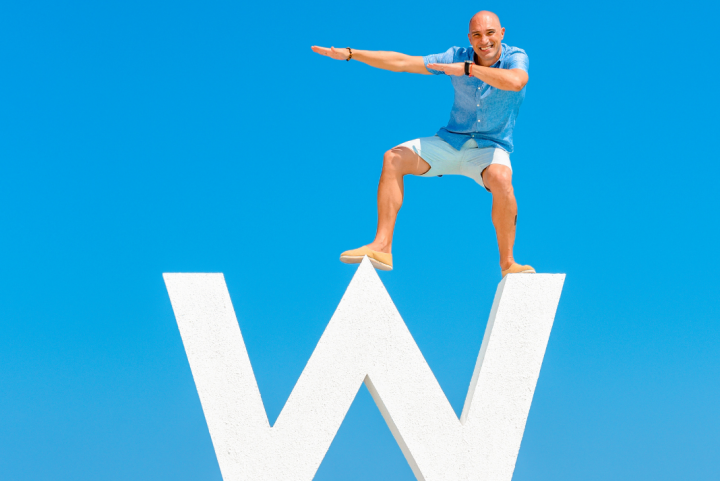 Meet Ibu Ribeiro, W Maldives' New Disruptor GM
W Maldives, part of W Hotels Worldwide, has appointed Idu Ribeiro as the new General Manager of the resort.
Born as a true disruptor hailing from Brazil, Idu is a seasoned hotelier with over 24 years of international experience in the tourism and hospitality industry. He had taken his first humble steps in entering the industry in 1997 as Activities Coordinator at Westgate Lakes Resorts Orlando and working through an enormous journey to take on the General Manager position in Actual Marriott Hotel Panama – his most recent role prior to his appointment at W Maldives. His appetite for hospitality industry has led him to five countries across two continents developing a multicultural mindset and cultivating his leadership and experiences in different disciplines of the industry.
Diving into his third continent, Idu is amplified for his new adventure in Asia Pacific. "It is truly a dream come true! I feel honored to have the opportunity to work and lead a team of such great talents. I am very excited to bring my Marriott and international experiences, my passion for hospitality and the energy to fuel W Maldives and ignite W brand's passion points further in this island nation," says Idu of his appointment.  
Idu spent his recent 5 years in triathlon training and is a very proud finisher of two 70.3 Ironman in Panama and Costa Rica. Blending in his lust for hospitality, great leadership profile, restless adventurer and risk-taker attitude, Idu is undoubtedly casted as the perfect leader for W Maldives to deliver the brand's unique guest promise – luxury guest experience with the bold, playful and vibrant character.
W Maldives waved its last hello to its recent 3-year Disruptor General Manager, Anuj Sharma, who is now moving up to rock Singapore as Marriott International, Area Director of Operations – Singapore, Malaysia and Maldives.
About W Maldives
Connect with your inner peace and go along with the pace of island life. Experience one of the 77 villas, either on the beachside or overwater giving you access to endless Indian Ocean views. Succumb to the dazzling blue waters, spectacular reefs and pristine sands in style and be at one with both body and soul. AWAY® Spa at W Maldives is the ultimate sanctuary for well-being with four overwater treatment villas, each with a private outdoor area and a range of treatments designed to remove all the stresses and strains of modern day city life.
About W Hotels Worldwide
Born from the bold attitude and 24/7 culture of New York City, W Hotels, part of Marriott International, Inc., has disrupted and redefined the hospitality scene for nearly two decades. Trailblazing its way around the globe, with over 50 hotels, W is defying expectations and breaking the norms of traditional luxury wherever the iconic W sign lands. With a mission to fuel guests' lust for life, W ignites an obsessive desire to soak it in, live it up and hit repeat. The brand's provocative design, iconic Whatever/Whenever service and buzzing Living Rooms create an experience that is often copied but never matched. Innovative, inspiring and infectious, the brand's super-charged energy celebrates guests' endless appetite to discover what's new/next in each destination, to see more, feel more, go longer, stay later. For more information on W Hotels, visit whotels.com/theangle or follow us on Twitter, Instagram and Facebook. W Hotels Worldwide is proud to participate in Marriott Bonvoy, the new name of Marriott's travel program replacing Marriott Rewards®, The Ritz- Carlton Rewards®, and Starwood Preferred Guest® (SPG). The program offers members an extraordinary portfolio of global brands, experiences on Marriott Bonvoy Moments and unparalleled benefits including earning points toward free hotel stays and nights toward Elite status recognition. To enroll for free or for more information about the program, visit moments.marriottbonvoy.com.