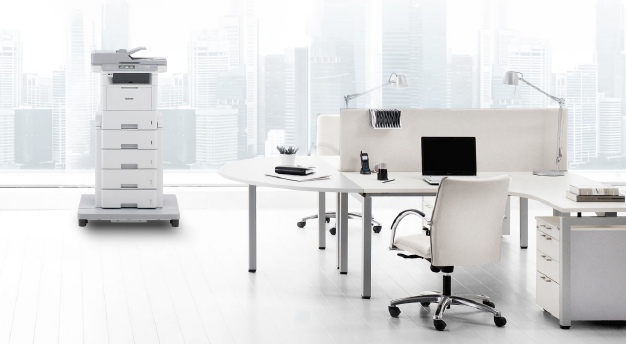 Brother MFC-L6900DW by Copier Plus
The MFC-L6900DW from Brother's Professional Line-up is ideal for large corporations, where one unit will suffice for a whole office floor. In terms of functionality, the printer can do double sided scanning, double-sided printing and for printing envelopes, features a bypass tray.
The machine supports paper sizes up to A4 and houses a standard 550 sheet tray and can be stacked up to five trays so that different, regularly used types and sizes of paper can be readily loaded in the printer. The printer can print up to 20,000 pages per a single toner cartridge at the speed of 55 pages per minute to facilitate faster printing, mitigating printer traffic.
For scanning, the printer offers network scanning; users can simply press scan and select what system to save the file on the printer itself without having to go back and forth from the printer to the system. You can also scan directly to a mail attachment by selecting the feature Scan to email. Scans can even be sent to a selected server.
As for printing security, the printer supports NFC, where the printer can be set up to be enabled upon reading the user's access card. For example, an HR staff can send confidential documents to print and the printer will only print upon reading the HR or other allowed staff's access card.
The printer can support up to 1000 users and can monitor using the provided software, the usage statistics for individual users. The network management tool provided, BR Admin, allows remote configurations, monitoring of useful information such as page counts, toner and drum status. With the option of setting a print quota for each user, you can better control printing cost. Instant notification of printer downtime also lets you attend to the problem before it impacts productivity.
The Brother Special Solutions Customisation (SSC) enables Brother products to be modified depending on your needs. Through careful collaboration, Copier Plus; the sole distributor of Brother products in the Maldives, helps you design the best solution that meets specific business challenges. Utilising optional accessories, the printer can be upgraded for easy sorting, heavy print jobs, busy workgroups, high print demands and heavy-duty printing.
Copier Plus, the authorised distributor for Brother in the Maldives, provides product training so that clients can fully utilise the printers. Common problems and FAQs can be additionally answered via the help of Brother's YouTube channel. Copier Plus provides tech support over the phone and provides monthly check-ups for clients with multiple printer setups.
The company provides one-year parts and service warranty as standard which can be extended upon request. The company provides free lifetime service. The MFC-L6900DW is used in a host of large corporations in Malé and various resorts.